How To Find IT Product Managers With Crazy Requirements

Michal Juhas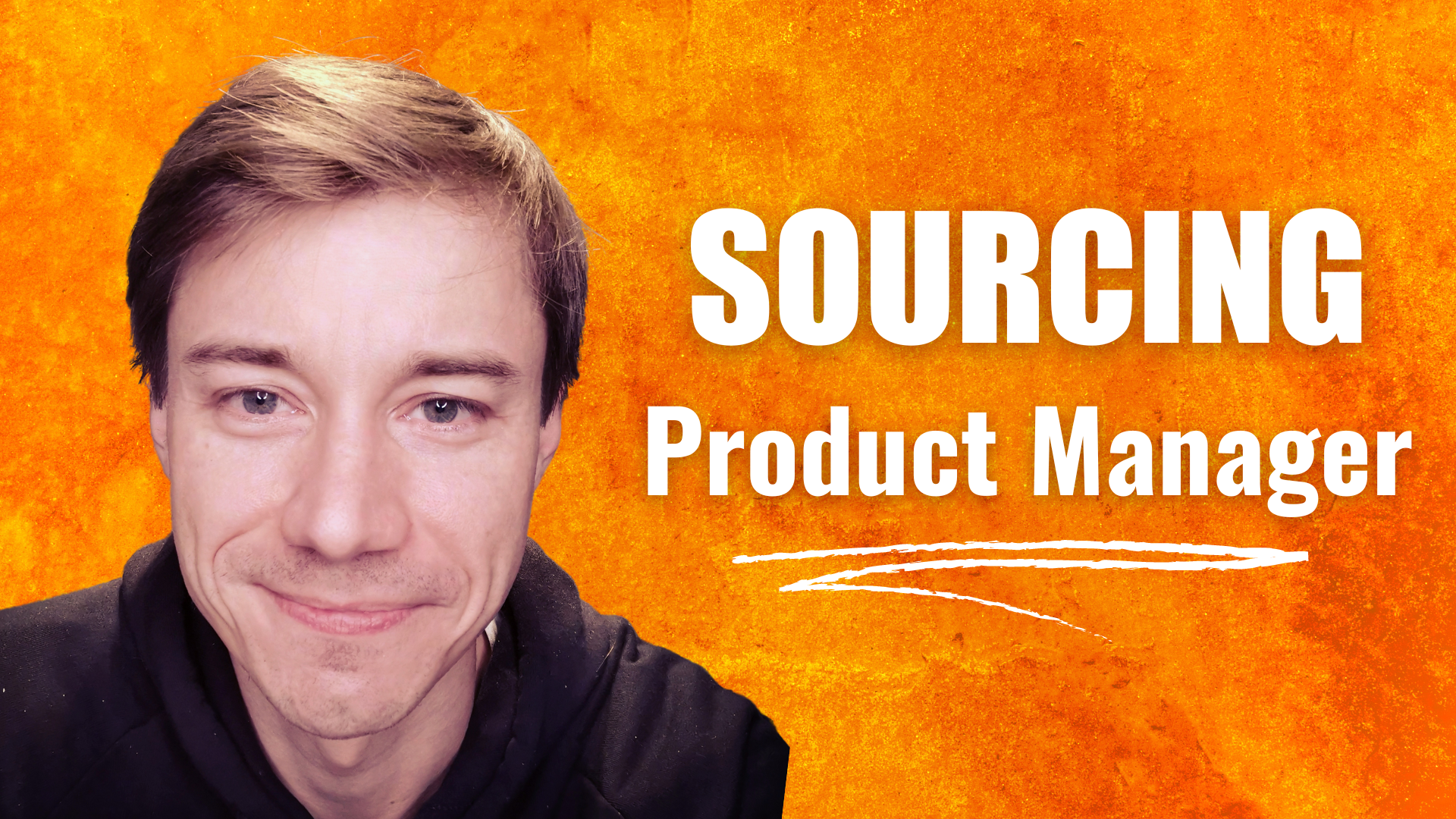 Job Requirement
The manager is looking for a candidate who has worked in the construction industry, then shifted to IT, and managed B2B software applications as a Product Manager.
Sounds easy? Probably not...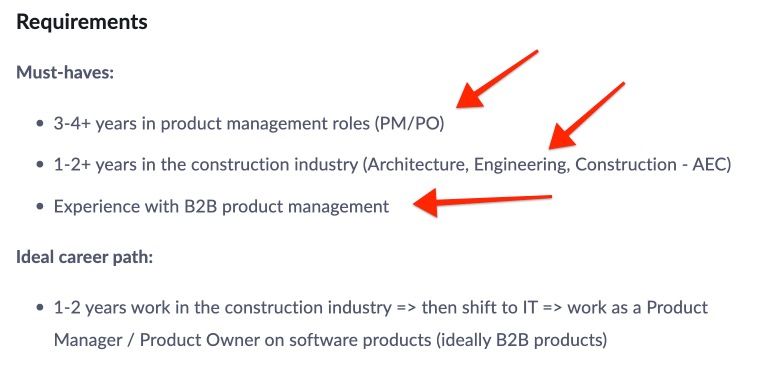 Who Are The Product Managers Anyway?!
We checked the mind map "Recruiting IT Product Managers" and explained the difference between a product manager and a product owner.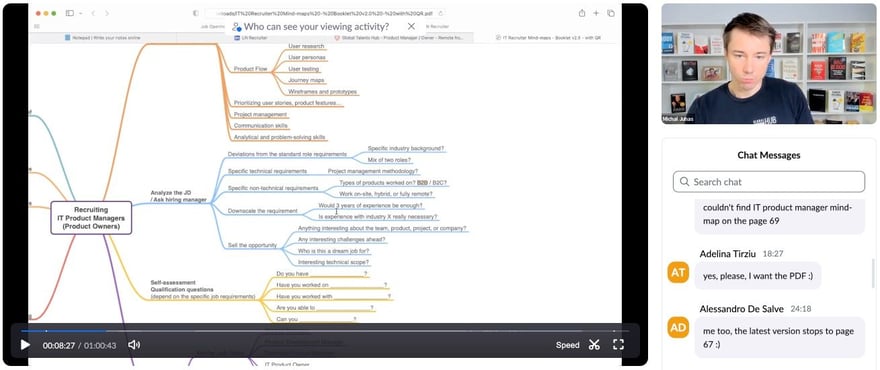 Product Manager and Product Owner are two roles that are commonly found in organizations that develop and launch products. While there is some overlap between the two roles, they have distinct responsibilities and focus:
A

Product Manager

is responsible for the overall strategy and vision for the product. They work closely with the executive team to define the product roadmap and prioritize features based on customer needs and market trends. They also work with cross-functional teams to develop, launch, and market the product.
A

Product Owner,

on the other hand, is responsible for managing the product backlog and ensuring that the development team is working on the right features at the right time. They work closely with the development team to define user stories and acceptance criteria and prioritize them based on customer needs and business value. They also collaborate with the Product Manager to ensure that the product roadmap aligns with the overall product vision.
Here's the mind map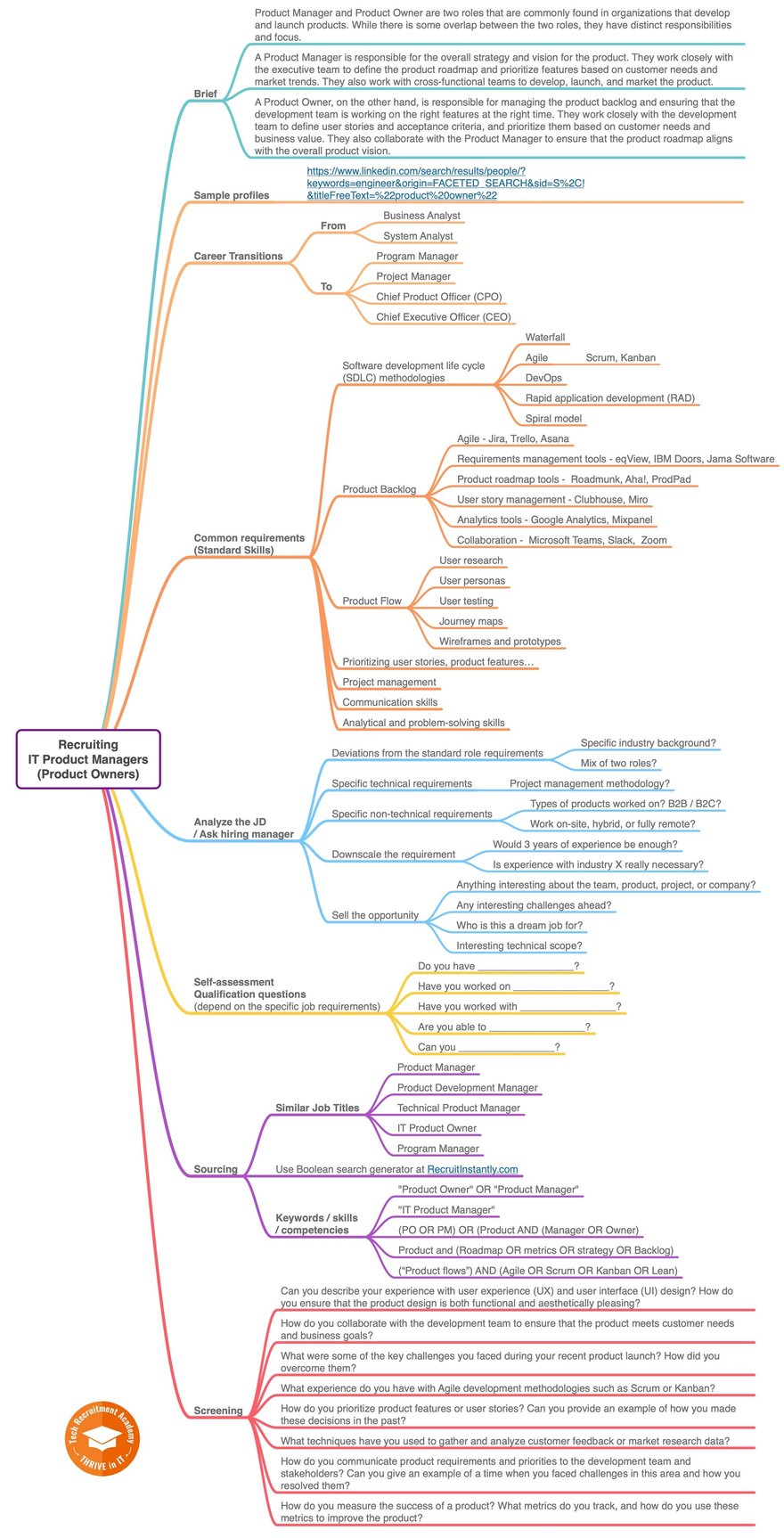 Search #1
We started with a little research to find construction software companies.
ChatGPT is our best friend:
Can you tell us please what companies develop software for the construction industry? For example Autodesk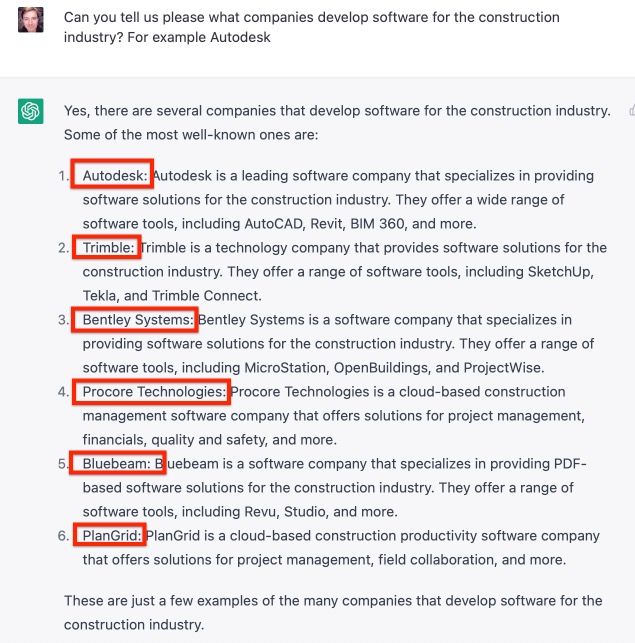 We wrote down the list of companies and copied them to LinkedIn as well.

The search for Product Managers or Product Owners who work or worked in some of the largest construction software companies:
Search #2
Next, I wanted to find people who worked in other companies but still have experience with construction.
So, we wrote down several keywords and the final Boolean:
(construction OR pre-construction)

AND

DFMA

AND

(Agile OR Scrum)

AND

B2B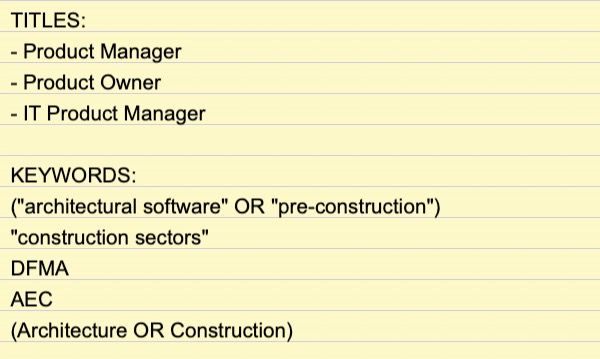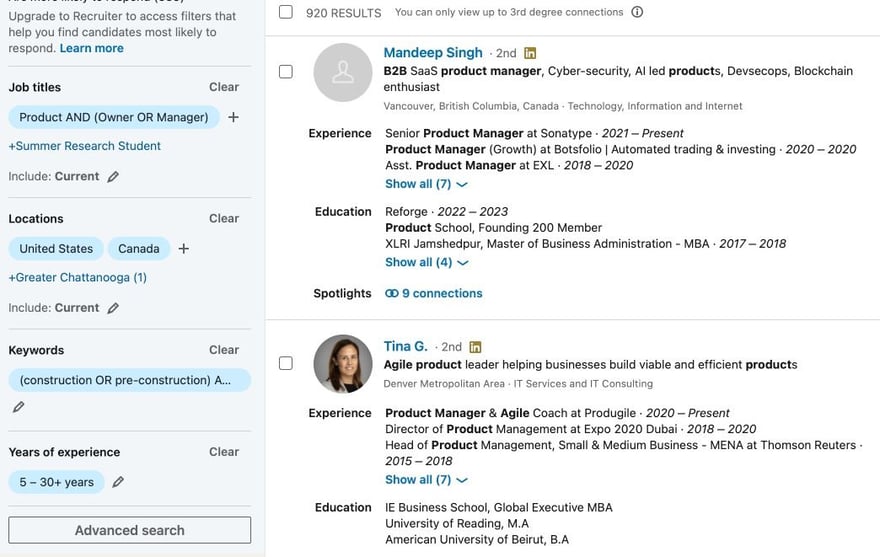 Message Good Candidates
Once I found a great candidate with a relevant background, I messaged him right away. This time without ChatGPT's help :)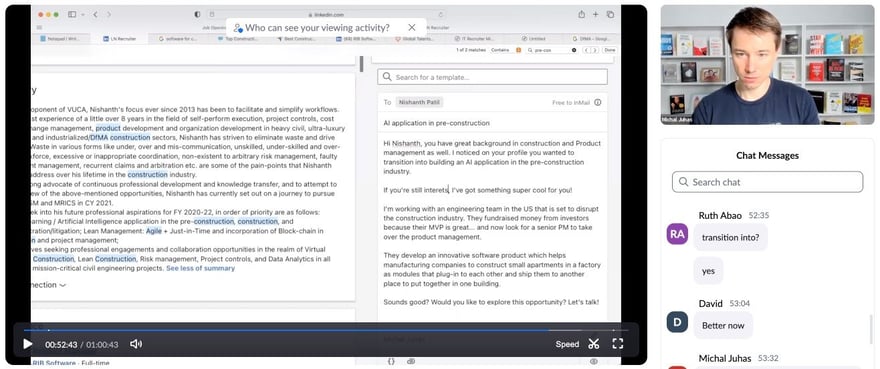 This is the message: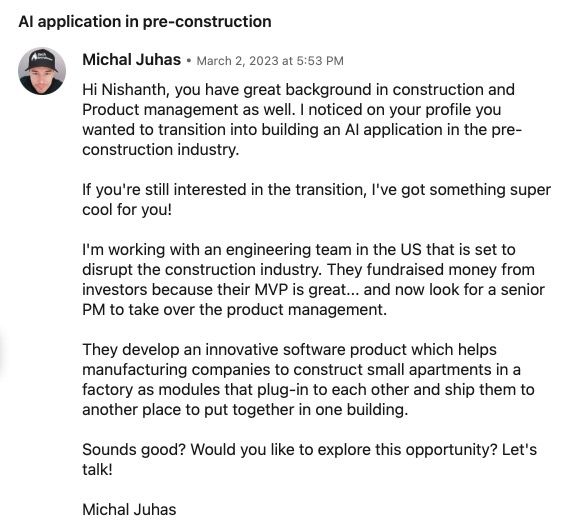 12 Hours Later...
The candidate responded just a few hours after we sent him the message:

2 Days Later...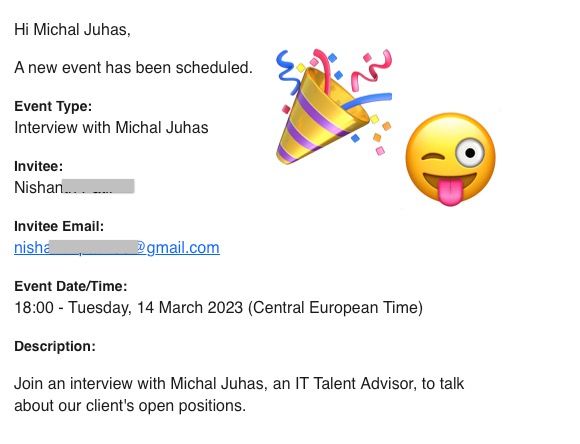 And What Does The Client Think?
"He looks like a pretty ideal candidate!"

UPDATE: March 16, 2023
Full Communication
This is our full transcript.
Short and sweet. Let's hope he books, I'll keep you posted!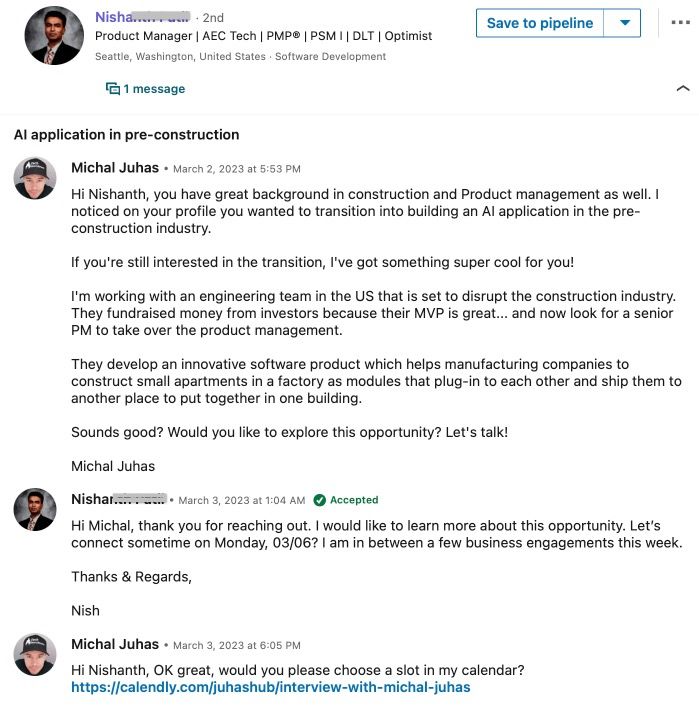 Get All Our Mind Maps
The IT world is FINALLY explained in human language!
If you'd like to learn how to "speak tech" with IT candidates—even if you've never worked in IT—then get Michal's popular mind maps eBook. You'll be able to quickly look up the right IT keywords and sound like a Pro!
40+ mind maps available with 30+ tutorial videos! Get immediate access here...