Start Your New Career
Technical Talent Sourcer Certificate Course
with Michal Juhas, the international tech recruitment expert, author, and YouTube content creator.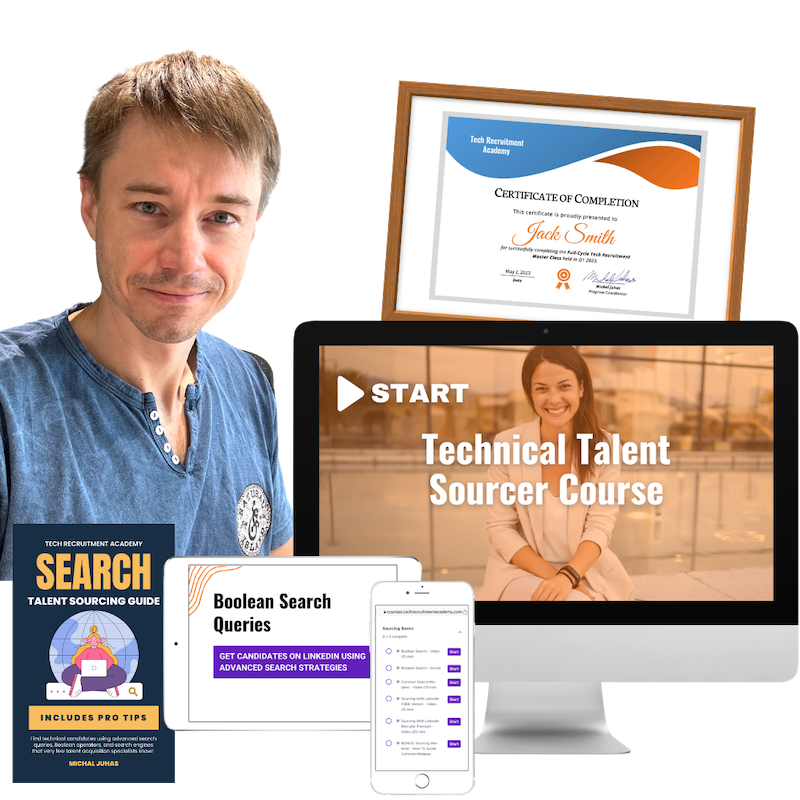 Start Your New Career As A
Talent Sourcer

With Our Course

Watch a video where Michal Juhas introduces the Technical Talent Sourcer certificate video course which is available on-demand so you can start anytime:
Start A New Career. From Scratch!
NO EXPERIENCE NEEDED! Just start learning from our video courses and follow our proven methodology.
IT Essentials

Learn all of the IT essentials so you can analyze job requirements, find candidates, and join interviews with confidence.

Real Projects

Start practicing on real-world recruitment projects and find IT candidates for open positions from international clients.

Sourcing on LinkedIn

Learn how to use IT keywords to find candidates on LinkedIn, GitHub, Google, or ATS using advanced Boolean search queries.

Certificate

Receive your certificate and feature it on your LinkedIn profile.
Our Graduates Work In Great Companies Around The World
Get a remote or on-site job in one of these cool companies: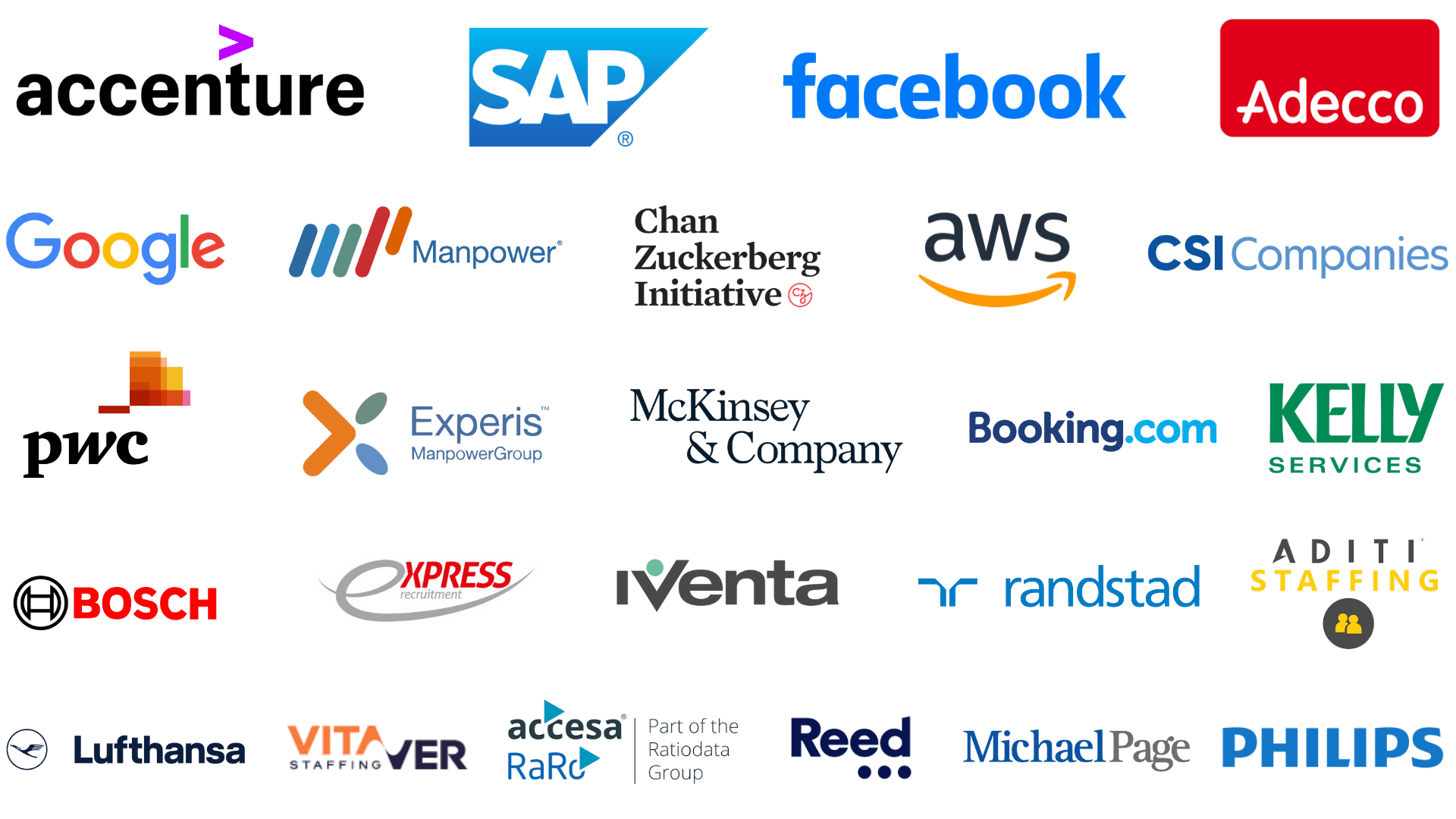 This Is How You Get Into Tech Recruitment
The fastest and most effective approach to learning a new thing is to simply start doing it. This course shows you what to do in screen share videos and then lets you do it too (with hints and help). By the end of this course, you will have hours of real tech recruitment experience, including multiple projects in your applicant tracking system.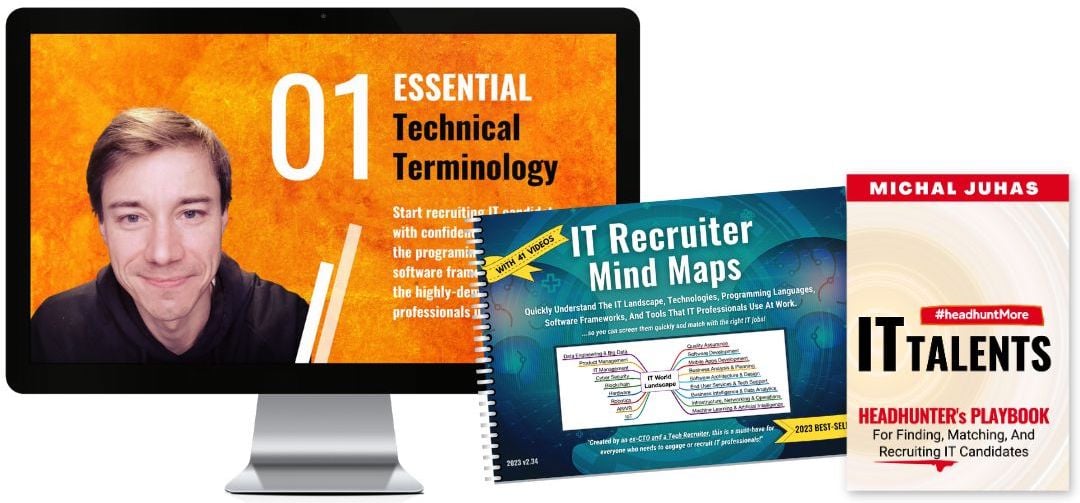 IT Terminology Explained
The essential IT terminology is explained in human language for account managers, HR specialists, Talent Acquisition experts, recruiters, and headhunters who engage with IT managers or IT candidates.
Includes:
8 hours of bite-sized video lessons
Mind maps and slide decks
Worksheet
Exit self-assessment
eBook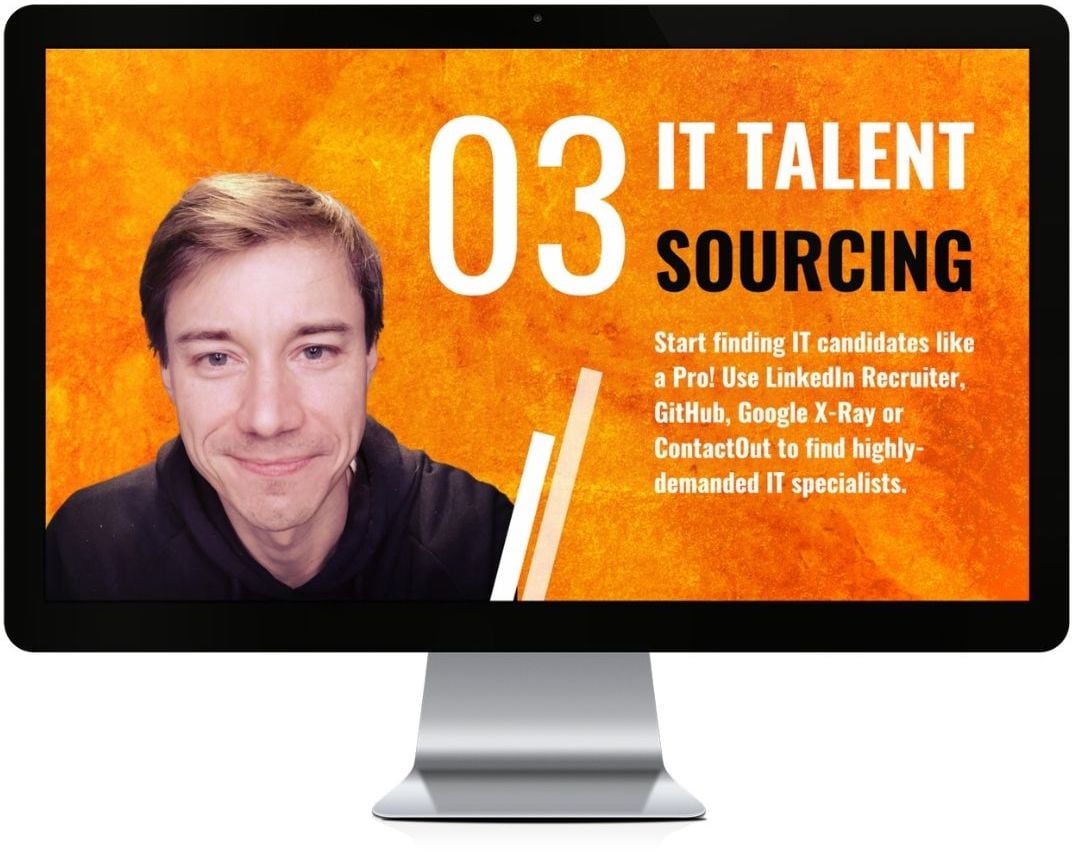 IT Talent Sourcing
Start finding IT candidates like a Pro! Use LinkedIn Recruiter, GitHub, Google X-Ray, or ContactOut to find highly-demanded IT specialists.
Includes:
3 hours of bite-sized video lessons
Mind maps and slide decks
Worksheet
eBook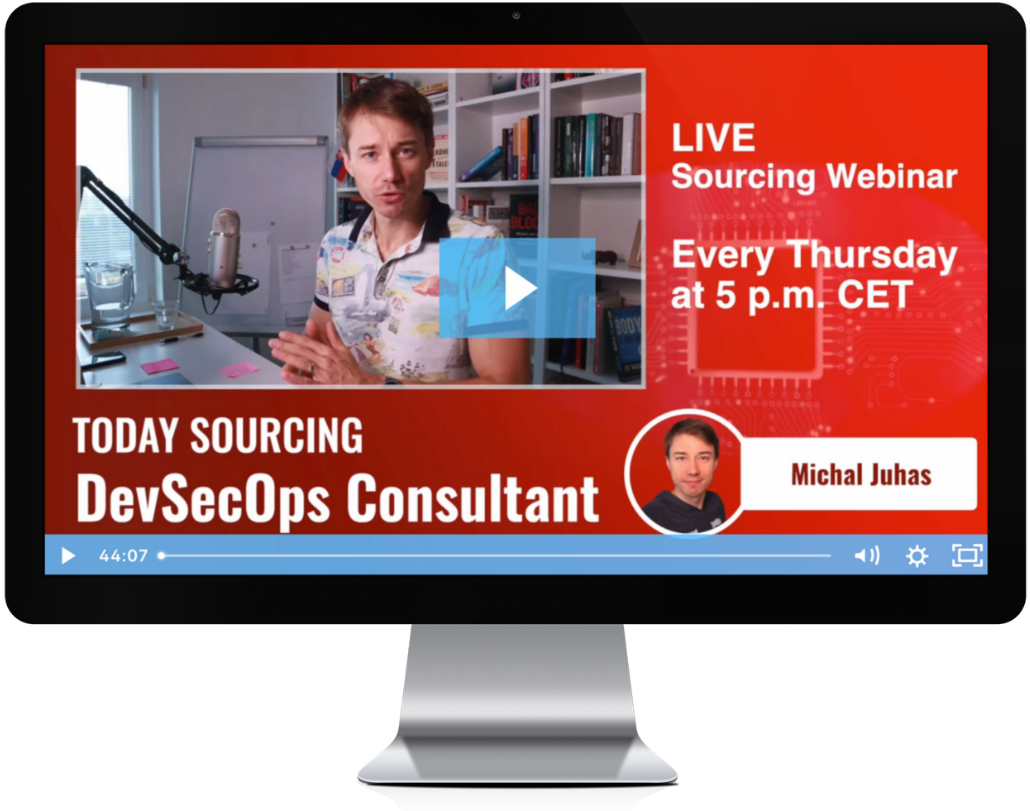 80+ Sourcing Webinar Replays
Get access to the greatest library of IT talent-sourcing strategies. Michal has recorded 80+ webinars, each 45-60 minutes long, where he explains how to find qualified candidates for hard-to-fill roles such as:
DevSecOps Consultant
Data Scientist
Oracle Consultant
Information Security Architect
Network Technician
Service Delivery Manager
Platform DevOps Engineer
PL/SQL Data Warehouse Developer
Azure Solutions Architect
SAP Developer
PM2 Project Manager
SharePoint Specialist
Change and Incident Coordinator
Cisco ACI Network Engineer
Backend Go Engineer
Fullstack Java Engineer
...and many more!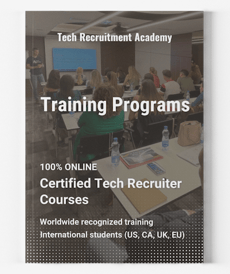 Get The Support You Need
Choose either the self-study video course or Master Class where we can answer your questions in real-time.
Sourcer Certificate
€97
Get the certificate
Take the CTR-SS Certification exam

Receive a Certificate
Sourcer Course
€297
100% online self-study
20+ hours of pre-recorded content

Practical exercises & case studies

Q&A in our community on Discord

Take the CTR-S Certification exam

Receive a Certificate
Master Class
€1,998
Professional guided program
40+ hours of pre-recorded content

Step-by-step road map

Build your portfolio and CV

VIP access to real clients job requirements

Weekly sourcing sessions (optional)

Weekly Live Q&A sessions (optional)

Five individual mentoring & accountability sessions

Submit candidates to real clients and earn $2-5k in commissions for each hired candidate

One on One help and Support

Take the CTR-FCS Certification exam

Receive a Certificate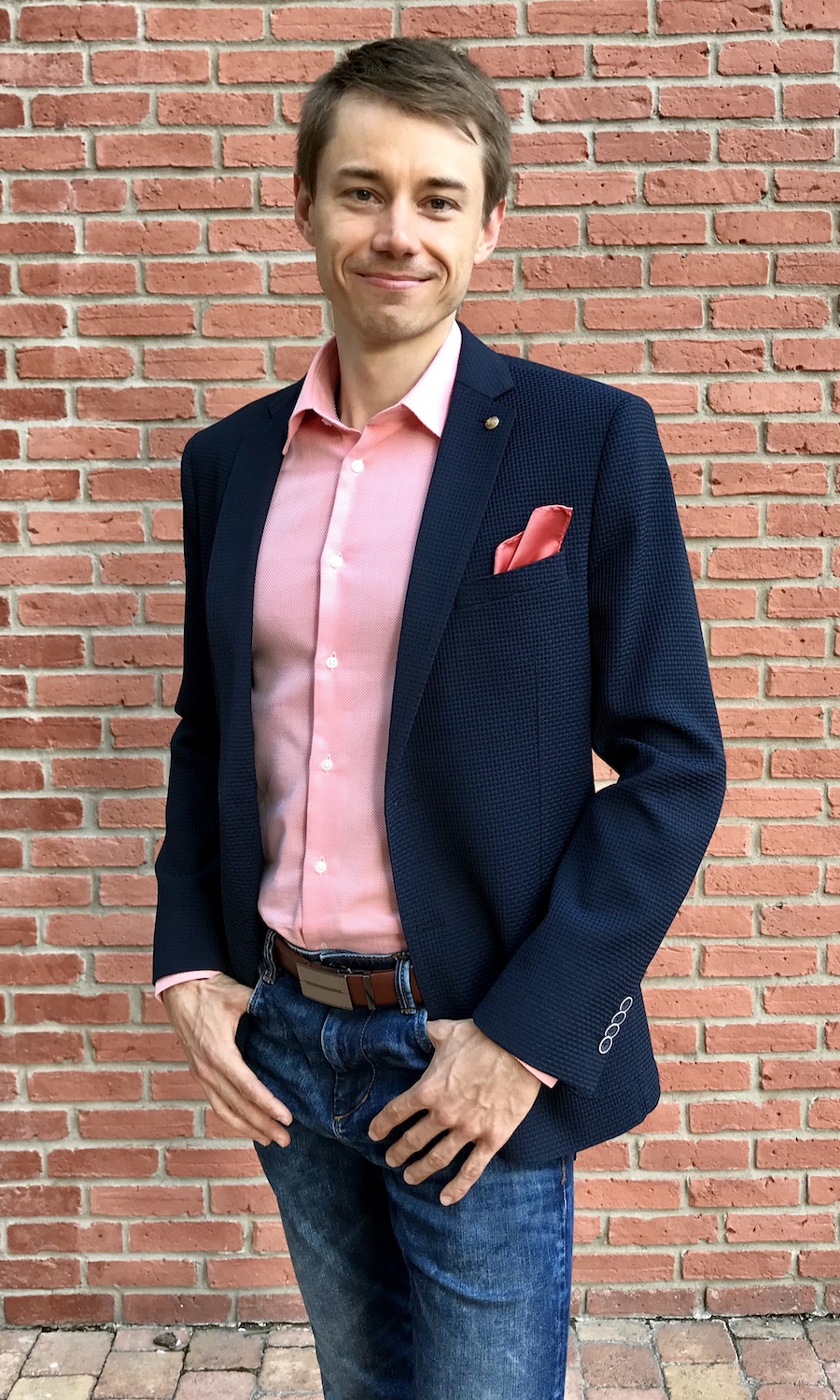 Hey, I'm Michal Juhas!
As one of YouTube's leading tech recruitment influencers, my entire YouTube is full of free information detailing how to get started in Tech Recruitment.
I've also created a free tech recruitment course for anyone who needs minimal guidance to get started on their own.

Why? Because when I was the CTO and hired software engineers, I realized very few headhunters and recruiters actually know anything about IT and IT roles. They couldn't help me hire the right IT candidates and when I moved from Thailand back to Europe, I decided to change it and started teaching HR specialists and recruiters the IT essentials.
Over the years, I trained over 30,000 IT and HR specialists online and on-site. I also run a staffing agency as a Lead Tech Recruiter where I use the same principles, methods, and materials to onboard and teach new colleagues.
Now I know exactly what it takes, I'm sharing this with anyone else who wants to do what I do!
Our Tech Recruitment Certification Program was designed for people who want detailed, step-by-step guidance to learn everything you need to land a great Tech Recruitment job. My screen shares, webinar replays, walkthroughs, and hands-on practical exercises ensure you're ready for a new career in Tech Recruitment.
I believe we all deserve a career that pays us enough not just to survive but to thrive. All of my resources (free or paid) were designed to help you break into tech with Tech Recruitment so you can make the salary you deserve, achieve true work/life balance, and focus on what really matters in life. Let's do this!