Tech Recruiter Master Class
Start Recruiting IT Candidates With Confidence, Get a 100% Remote Job With a Higher Salary, and Earn More Commissions—Even If You've Never Worked In Tech!
Become a Certified Tech Recruiter, Double Your Productivity and Placements, and Reach Your Goals In Record Time
The Tech Recruiter Master Class helps you accomplish your wildest professional and career goals while earning generous commissions on the side—even if you've never worked in IT and don't know the IT jargon yet!

Hundreds of professionals completed our training programs and this is what they say: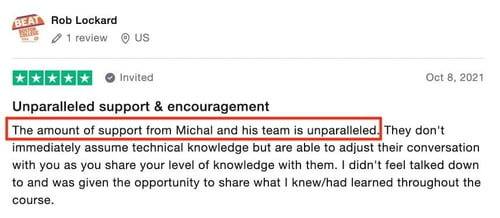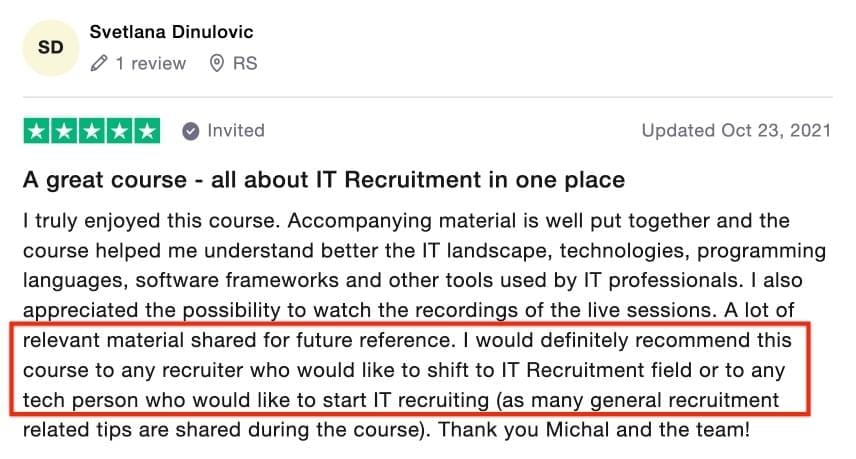 Would you like to get into Tech Recruiting but you don't know where to start and you find the whole Tech space overwhelming?
Look, this is the best time to become a remote tech recruiter!
Even if you have NEVER worked in IT and you don't know the IT terminology yet, you can get a well-paying job in a high-tech company as a Junior Technical Recruiter or a Talent Sourcer: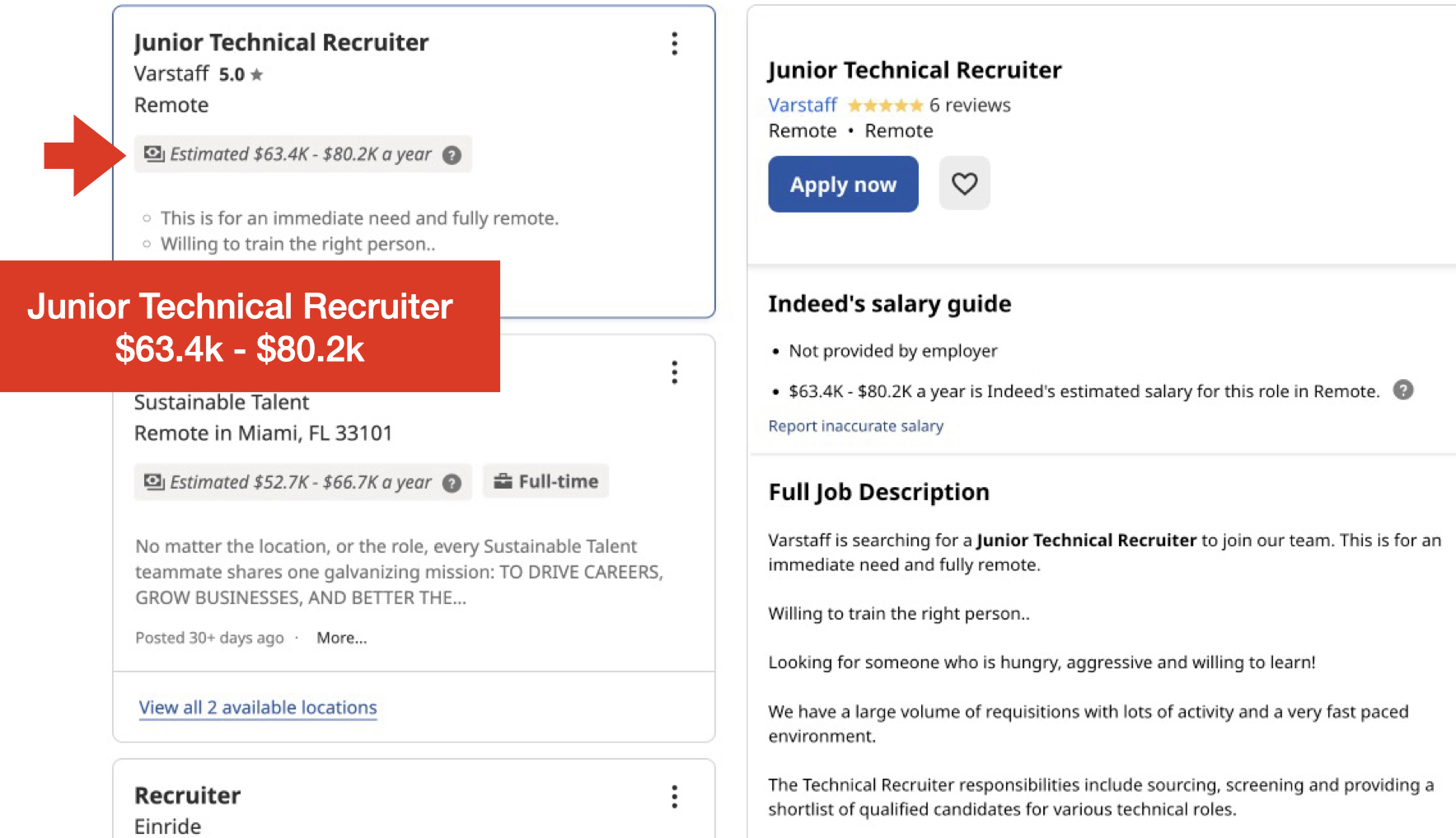 You can also start working commission-only and earn generous commissions from your own clients.
For each hired IT candidate your clients would pay you over $10,000 in commissions, depending on the candidate's seniority and salary: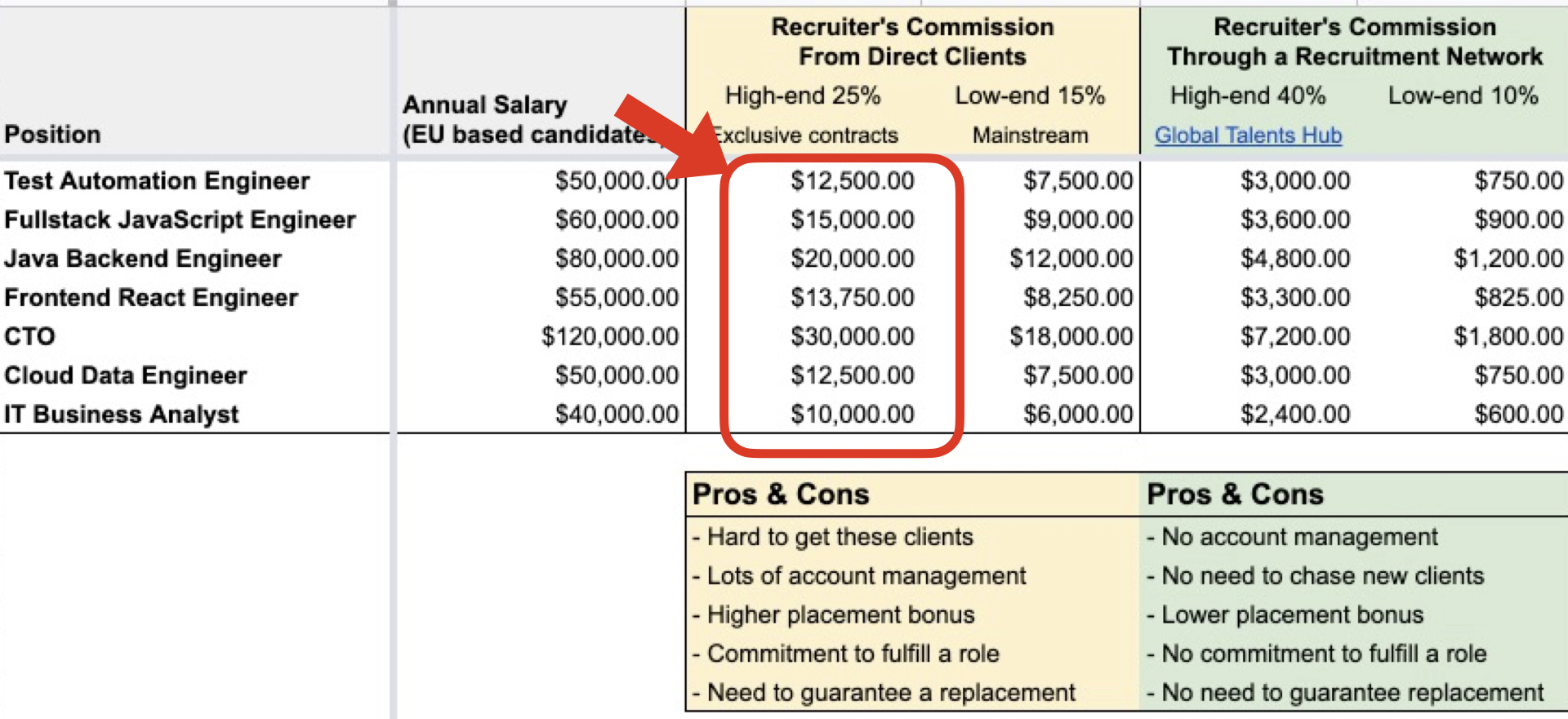 There is a huge talent shortage in the IT job market around the world.
Companies need more and more IT professionals but they simply cannot find them.
Job boards don't work anymore for IT roles because IT professionals have lots of opportunities even without applying on those job boards.
Companies have to hire more and more Talent Sourcers and Tech Recruiters to headhunt those IT professionals.
These technical headhunters are scouting social media and professional networks, and approach passive candidates on LinkedIn and elsewhere.
Technical recruiters are in HIGH DEMAND as well!
As a result, their salaries, bonuses, and commissions keep increasing!
And commission-only recruiters can earn EVEN MORE money because high-tech companies are willing to pay even US$20,000 or US$30,000 in success fees for each hired IT candidate.
All of that while these recruiters are working remotely from the comfort of their home or a coffee shop.
Recruiters with good clients and decent talent pools can close 2-3 vacancies every month like clockwork... so do the math!
Thad Greer from CTORecruiter has closed over 15 C-level IT vacancies in 2021 and his average commission was $30,000 per hired candidate! Isn't that crazy??
Look, global companies such as Deloitte, Accenture, Intel, Tesla, and others keep hiring IT recruiters.
Plus, international staffing agencies such as Manpower, Experis, REED, and Randstad are hiring Tech Recruiters as well.
They are literally throwing money at recruiters who can find and screen IT candidates!
If you'd like to transition to IT recruitment and take advantage of all these opportunities, we've got something special for you.
INTRODUCING...
Tech Recruiter Master Class
Start recruiting IT candidates with confidence, get a 100% Remote job with a higher salary, and earn more commissions—Even on the side!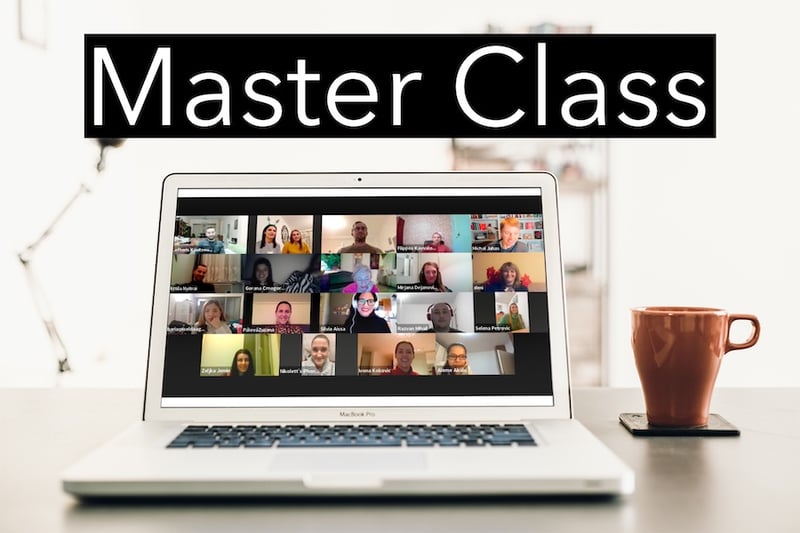 Tech Recruiter Master Class is an online training program designed for business professionals, HR managers, IT specialists, stay-at-home parents, or anyone eager to explore the vast opportunities within the Tech industry.
Only 9 seats are available to ensure 1-on-1 feedback and coaching
How Does The Master Class Work?
The Master Class has four main elements that help you achieve your goals.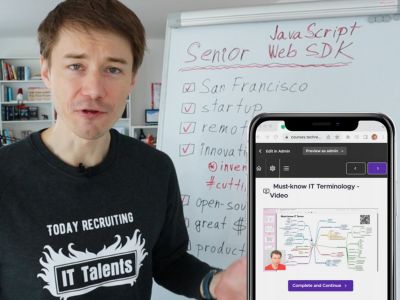 Daily Training & Exercises
You will receive daily content and engaging exercises designed to deepen your understanding of tech recruiting. This daily learning approach keeps you motivated and steadily builds the skills you need to excel in the field.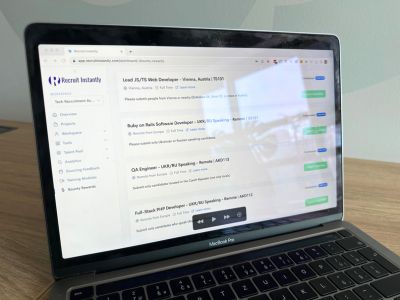 Real Clients & Projects
You'll work on real job requirements and projects, giving you hands-on experience to apply your newfound knowledge to real-world scenarios. This ensures you're job-ready and capable of delivering results from day one.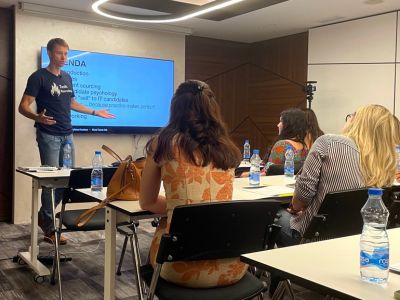 Expert Mentoring
Our expert mentors will provide you with personalized guidance and feedback, helping you navigate challenges, refine your skills, and build confidence in tech recruiting. This one-on-one support accelerates your learning process and fosters mastery of the subject matter.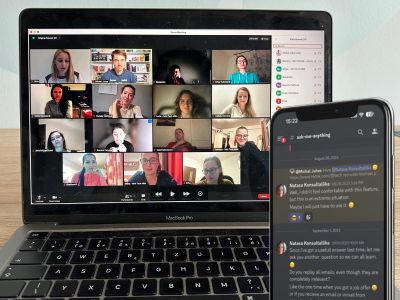 Group Coaching & Community
Through group coaching sessions and our vibrant community, you'll have the opportunity to connect with your peers, share insights, and collaborate on solving complex recruiting challenges. This creates a supportive network that continues to offer guidance and motivation even after the course ends, ensuring your ongoing success in tech recruiting.
Only 9 seats are available to ensure 1-on-1 feedback and coaching
What Kind Of Results Should I Expect From The Master Class?
Comprehensive IT Landscape Understanding
Gain an in-depth understanding of the IT industry, including roles, programming languages, frameworks, tools, and technologies used globally.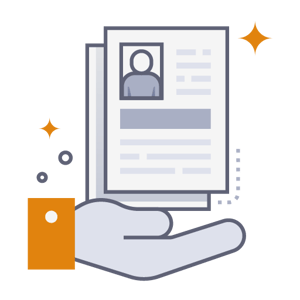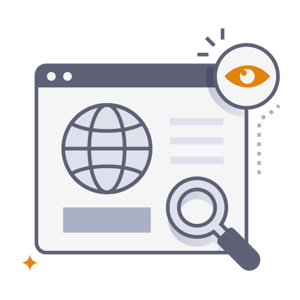 Effective Candidate Sourcing
Learn proven strategies for sourcing top IT talent, enabling you to consistently identify and attract qualified candidates.
Refined Candidate Screening
Master the art of evaluating IT candidates' skills, experience, and cultural fit, ensuring you match them accurately with job opportunities.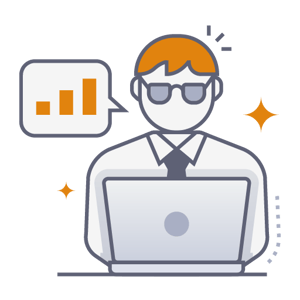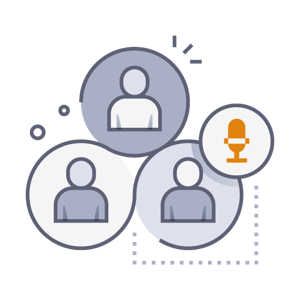 Industry Networking Skills
Develop a strong professional network within the IT industry, connecting with key players and staying updated on market trends.
Remote Recruiting Expertise
Acquire the skills needed to successfully recruit IT professionals for remote work opportunities, catering to the evolving job market.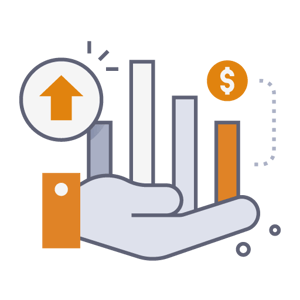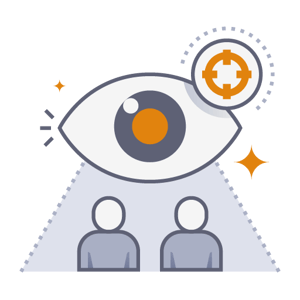 Stay ahead of the curve with insights into the latest IT job market trends, salary benchmarks, and emerging technologies.
Boost your track record of successfully placing IT candidates, leading to increased job placements and earning potential.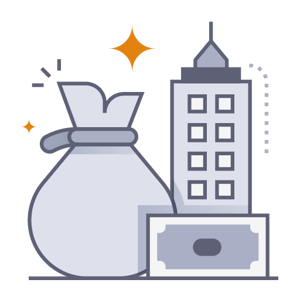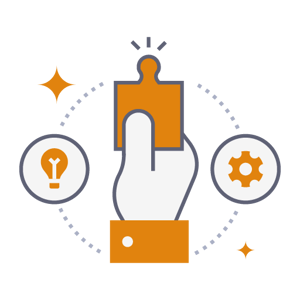 Confidence and Competence
Build the confidence and competence required to excel in tech recruiting, whether you're looking to transition into the field or enhance your current career.
Only 9 seats are available to ensure 1-on-1 feedback and coaching
The Tech Recruiting Industry Offers An Abundance Of Opportunities

Tech recruiters in the United States earn an average annual salary of $70,000 to $110,000, with experienced professionals commanding salaries exceeding $140,000, as reported by Glassdoor.
Unlock your earning potential with our advanced training!

Productivity gains of up to 30% have been observed when tech recruiters leverage advanced sourcing techniques and automation tools, according to a study by Deloitte.
Supercharge your productivity with our cutting-edge training modules.

LinkedIn's data shows that 78% of tech recruiters who invest in continuous learning and professional development opportunities, such as certifications and specialized training, advance to higher-level positions within two years.
Elevate your career prospects with our training programs!
Master Class Curriculum
The Master Class includes these 10 modules that drive you toward your goal:
01: Essential IT Terminology
Deep Dive into the IT World
Embark on a journey to master the intricate landscape of the IT sector. In this foundational module, recruiters will unlock the keys to understanding the IT domain's most critical elements, from core roles to pivotal programming languages.
What's Inside:
70 Comprehensive Mind Maps: Visualize the IT domain with ease and clarity, simplifying complex concepts into easy-to-understand diagrams.
Interactive Worksheets: Strengthen your grasp on the tech landscape through engaging exercises.
Quizzes & Challenges: Test your knowledge at every step, ensuring your readiness to engage with IT professionals effectively.
Key Takeaways:
Demystify IT Jargon:

Say goodbye to the confusion of tech speak. Become fluent in the terms and language used in the IT sector.

Decode IT Roles:

Understand the nuances of various IT roles, their responsibilities, and skills. This knowledge ensures that you're speaking the same language as the candidates you're pursuing.

Deep Dive into Software Frameworks:

Get a handle on the diverse range of software frameworks, helping you identify the best-fit candidates for specific tech roles.

Comprehend Programming Languages:

Dive deep into the world of coding languages, ensuring you spot the right talent every time.
Transformative Benefits:
Boost Confidence: Engage in technical discussions with clarity and conviction. Never again feel out of depth when conversing with IT candidates.
Enhance Efficiency: Speed up the recruitment process by instantly recognizing candidate qualifications and alignment with job requirements.
Elevate Credibility: Earn the respect of IT professionals by showcasing a deep understanding of their domain.
Your Evolution as a Tech Recruiter:
By completing this module, you will not just be a recruiter; you'll become a Tech Recruiter Specialist. Position yourself as the go-to expert in IT recruitment, stand out in the industry, and watch as top IT professionals gravitate towards you.
This module will unlock unparalleled expertise in IT recruitment!
02: Analyzing IT Job Requirements
Decode the Language of IT Hiring
The secret to successful tech recruitment lies not just in understanding the IT domain, but in accurately interpreting the requirements of IT roles. Dive deep into the essence of IT job descriptions and emerge with the proficiency to dissect and analyze them to the finest detail.
What's Inside:
Master Job Description Analysis: Get to the core of what hiring managers are looking for, ensuring a perfect match every time.

Craft Tailored Questions: Use your deep understanding to frame insightful questions, enhancing the clarity and depth of your discussions with hiring managers.

Transition from Recruiter to Advisor: Elevate your position from just a recruiter to a trusted IT hiring consultant.
Key Takeaways:
Master Job Description Analysis:

Get to the core of what hiring managers are looking for, ensuring a perfect match every time.

Craft Tailored Questions:

Use your deep understanding to frame insightful questions, enhancing the clarity and depth of your discussions with hiring managers.

Transition from Recruiter to Advisor:

Elevate your position from just a recruiter to a trusted IT hiring consultant.
Your Evolution in the IT Recruitment Journey:
Upon completing this module, you'll become more than just a recruiter; you'll be an IT Job Analysis Expert. Establish a reputation for excellence, making both candidates and hiring managers rely on your keen insights and expertise.
Deepen your analytical prowess in IT recruitment. Enroll now and revolutionize your approach!
Master the Art of Finding IT Talents
The heart of recruitment lies in discovering the perfect talent. Dive into the intricate world of IT candidate sourcing and harness the strategies and tools that will turn you from a seeker into a finder.
What's Inside:
Advanced Boolean Search Techniques: Navigate the vast online talent ocean with precision, using finely-tuned search queries.
Common Search Mistake Awareness: Steer clear of pitfalls and dead-ends by understanding where others commonly go wrong.
Ultimate Sourcing Webinar Library: Access an unparalleled collection of over 80 in-depth webinar replays, each diving deep into the nuances of sourcing IT candidates for various roles.
Key Takeaways:
Efficient Sourcing Strategies:

Unlock methods to streamline your search process, cutting down time without compromising quality.

Boolean Search Mastery:

Use logical and strategic searches to zero in on the ideal IT candidates every time.

Engaging Outreach Techniques:

Learn the art of crafting compelling messages that grab the attention of IT professionals.
Transformative Benefits:
Enhanced Discovery: No more long hours spent on fruitless searches. Find the right IT talents swiftly and efficiently.
Increased Response Rates: Through engaging outreach methods, witness a surge in positive responses from potential candidates.
Continuous Learning: With the vast library of webinars, always stay updated with the latest sourcing strategies and trends.
Your Elevated Status in IT Recruitment:
Completion of this module doesn't just add to your skills—it transforms you into an IT Sourcing Maestro. Stand out with your efficient and effective sourcing methods, making you the top choice for businesses and candidates alike.
Elevate your sourcing game to unparalleled heights. Dive in now and make every search count!
04: IT Candidate Engagement
Harness the Power of Persuasion for Top IT Talents
In a market overflowing with opportunities for IT professionals, your engagement strategy is the key to standing out. Delve into the intricacies of IT candidate psychology and craft messaging that not only piques their interest but also compels them to respond.
What's Inside:
IT Candidate Psychology Deep Dive:

Understand the core motivations, aspirations, and preferences of IT professionals, setting the foundation for tailored engagement.

Engaging on LinkedIn:

Learn the dos and don'ts of LinkedIn messaging, ensuring your outreach stands out amidst the crowd.

Crafting Compelling Emails:

Harness the power of email by understanding the perfect structure, tone, and content that makes IT professionals click.

Real-World Engagement Scenarios:

Benefit from hands-on learning through authentic case studies, examples, and message breakdowns.
Key Takeaways:
Psychology-Driven Engagement: Craft messages based on a deep understanding of what resonates with IT talents, ensuring they see the value in every opportunity you present.
Maximize Response Rates: Through strategic and insightful engagement, increase your chances of securing positive and enthusiastic responses from top candidates.
Practical Insights: By analyzing real-world engagement scenarios, refine and perfect your outreach methods.
Transformative Benefits:
Break Through the Noise: In a saturated market, ensure your messages don't just reach IT professionals—they captivate them.
Elevated Conversations: Engage IT candidates in deeper, more meaningful discussions about opportunities, fostering trust and rapport.
Increased Placement Success: With a stronger engagement strategy, witness a surge in successful job placements.
Your Newfound Edge in IT Recruitment:
Upon concluding this module, you won't just be reaching out—you'll be truly connecting. Transcend the barriers of conventional recruitment and emerge as an IT Engagement Expert, making every message and outreach effort count.
05: IT Candidate Screening
Navigating the Crucial Phase of Recruitment with Precision
The pivotal moment in IT recruitment is the screening and interview process. Transform the way you assess IT candidates, ensuring you identify not just skills but the right fit. With the right tools and insights, become the gatekeeper who ensures only the best talents move forward.
What's Inside:
Deep Dive into Common IT Roles: Gain clarity on the key responsibilities, skills, and expectations for the most prevalent IT roles.
Expert Interview Techniques: Learn to steer video call interviews effectively, ensuring you extract valuable insights every time.
Screening Best Practices: Develop a sharp eye to spot potential red flags, making certain you only invest time in the most promising candidates.
Real-World Screening & Interview Scenarios: Experience firsthand through genuine case studies, direct call examples, and insightful candidate reports curated by Michal Juhas, the renowned tech recruitment expert.

Key Takeaways:
Efficient Pre-Screening: Avoid the pitfalls of time-consuming mismatches by quickly identifying and filtering out unsuitable candidates.
Confident Interviewing: Bolster your interviewing skills to engage, assess, and judge IT candidates' suitability with unwavering confidence.
Detailed Candidate Reporting: Understand how to synthesize interview insights into comprehensive reports, paving the way for informed hiring decisions.
Transformative Benefits:
Maximized Recruitment ROI:

Ensure that every candidate you forward is worth the investment, boosting your success rate and credibility.

Elevated Candidate Insights:

Dive deeper into conversations, extracting invaluable information that goes beyond just the CV.

Strengthened Decision-Making:

With detailed reports and insights, provide hiring managers with the clarity they need to make the best hiring choices.
Your Mastery in IT Recruitment:
Completing this module transforms you into an IT Screening and interview Virtuoso. The ability to discern, engage, and assess candidates effectively ensures that your role becomes indispensable in the recruitment chain, making every effort prior to this stage count.
Perfect the art of IT candidate assessment. Enroll now and ensure every interview is a step closer to the perfect hire!
Crafting a Ready-to-Deploy Reserve of IT Talents
Every seasoned recruiter understands the value of a well-curated talent pool. Dive into the nuances of creating your very own database—a reservoir teeming with prospective IT candidates, primed for swift outreach and deployment.
What's Inside:
The Anatomy of a Talent Pool: Grasp the intricacies of creating and maintaining an efficient database tailored for swift searches.
Accelerated Outreach: With direct contact details in your arsenal, bypass the wait of cold outreach on platforms like LinkedIn.
Focused Role Challenge: Embrace a transformative challenge where you'll choose a standard IT role and strategically connect with potential candidates, elevating your talent pool strategy.
Key Takeaways:
Proactive Recruitment: Move from reactive sourcing to proactive engagement, reaching out to candidates with opportunities even before they start their job search.
Faster Placements: With a well-crafted talent pool, reduce the time between receiving a job order and presenting a qualified candidate.
Personalized Outreach: With firsthand knowledge about your candidates, curate messages that resonate on a personal level, increasing your engagement success.
Transformative Benefits:
Swift Responses: Enjoy the luxury of quicker responses by directly reaching out to potential candidates, leading to expedited hiring processes.
Streamlined Processes: Minimize the back-and-forth and uncertainty of cold outreaches with a database primed with interested and vetted candidates.
Strategic Recruitment: Strategically grow your talent pool with focused roles, ensuring you always have a repository of the most sought-after candidates.
Your Evolution in Tech Recruitment:
By the end of this module, you'll not just be a recruiter; you'll be a strategic talent pool curator. You'll be armed with a robust database, ensuring you're always a step ahead in the dynamic world of tech recruitment.
Take the leap from passive to proactive recruitment. Start building your talent pool today and stay ahead of the curve!
07: Personal Branding & Resume
Crafting a Stellar Personal Brand in the Tech Recruitment Space
In an age where your digital footprint speaks volumes, personal branding isn't a luxury—it's a necessity. Equip yourself with the skills to impeccably present your professional journey, ensuring every candidate
and client interaction starts with inherent trust
 and confidence.
What's Inside:
LinkedIn Profile Masterclass: Deep dive into optimizing every segment of your LinkedIn profile—from headline to endorsements—ensuring it resonates authority and expertise.
Showcasing Assets & Achievements: Discover how to spotlight crucial certifications, accomplished projects, and other professional assets in a manner that boosts your credibility manifold.
Personal Branding 101: Understand the principles of personal branding tailored for tech recruiters, ensuring your profile doesn't just inform, but impresses and persuades.
Key Takeaways:
Enhanced Credibility: Elevate your online persona, ensuring every prospective candidate or client interaction starts on a foundation of trust.
Magnetic Professional Presence: Curate a LinkedIn profile that not only informs but attracts and retains attention, setting you apart from the sea of recruiters.
Showcase of Expertise: Learn the art of strategically highlighting your accomplishments, making them easily discoverable and impactful.
Transformative Benefits:
Increased Engagement: A powerful personal brand means more responses, more discussions, and more successful collaborations.
Client & Candidate Confidence: Present a profile that reassures clients of your expertise and convinces candidates of your genuine intent and capability.
Competitive Edge: In a saturated market, let your personal brand be the differentiator, propelling you to the top of the preferred recruiter lists.
Your Digital Makeover in Tech Recruitment:
By the end of this module, your digital presence will no longer be just a profile; it'll be a brand—a beacon of your expertise, commitment, and capability in the tech recruitment arena.
It's not just about who you are, but how you present yourself. Perfect your personal brand and watch opportunities flock to you!
Unlocking the Art of Securing Tech Recruitment Projects
In the freelance tech recruitment realm, your next big project is only as good as your client acquisition strategy. Step into the world of strategic client outreach, where every message is an opportunity, and every conversation is a
potential partnership.
What's Inside:
Strategic Acquisition Blueprint: Delve deep into tried-and-tested client acquisition strategies tailored for the tech recruitment space.
Community-Powered Insights: Engage in invaluable discussions on our Discord platform, where collective experience translates into actionable insights.
Prospecting Done Right: Benefit from real-world examples—both, messages we send to potential clients and those we receive—ensuring you understand the do's and don'ts of impactful outreach.
Key Takeaways:
Expert Outreach Techniques: Navigate the intricacies of framing pitches that not only capture attention but also hold it.
Real-World Practice: With our practical focus, step into the shoes of both the prospecting recruiter and the prospective client, ensuring your outreach stands out.
Community Collaboration: Capitalize on the collective knowledge of a vibrant community, ensuring you're armed with insights from varied experiences.
Transformative Benefits:
Consistent Project Flow: With effective client acquisition strategies, ensure your project pipeline is consistently robust.
Elevated Response Rates: Craft messages that resonate, ensuring your outreach garners the attention and response it deserves.
Collaborative Growth: Engage with peers, learn from their experiences, and refine your strategies, driving mutual growth.
Your Gateway to Client Acquisition Mastery:
Post this module, you won't just be an exceptional tech recruiter; you'll be a strategic business developer, perfectly balancing the art of recruitment with the science of client acquisition.
Step beyond recruitment; become a strategic partner. With targeted outreach and community-powered insights, ensure your next big project is always around the corner.
Amplify Your Recruitment Efforts with the Right Tools
In the fast-paced world of tech recruitment, having the right set of tools can make the difference between a successful hire and missed opportunities. Dive into this module to discover, evaluate, and adopt the latest and most effective tools, as endorsed by
a thriving community of recruitment experts.
What's Inside:
Curated Tool Recommendations: Unveil a collection of tools that seasoned recruiters swear by, taking the guesswork out of the selection process.
Hands-on Exploration: Take on the challenge to try out some of these tools, sign up for trials, and identify what aligns best with your unique recruitment style.
Community Feedback Loop: Benefit from the collective experience, with insights and reviews on how different tools have aided peers in their recruitment journey.
Key Takeaways:
Strategic Tool Adoption: Elevate your recruitment processes by integrating tools that enhance efficiency and effectiveness.
Informed Choices: Navigate the myriad of available tools with confidence, thanks to community-backed recommendations.
Immediate Application: Dive straight into trials, ensuring you get a firsthand experience and can swiftly determine the best fit for your needs.
Transformative Benefits:
Enhanced Productivity: Streamline and automate various stages of the recruitment process, ensuring more is achieved in less time.
Cost & Time Efficiency: By leveraging the right tools, significantly reduce both the time and costs associated with finding the ideal candidate.
Continual Learning: Stay updated with the ever-evolving recruitment tool landscape, ensuring you're always a step ahead in the game.
Your Toolkit to Tech Recruitment Excellence:
Upon completing this module, you'll not only be equipped with knowledge but also practical experience of the tools that are reshaping the recruitment arena, ensuring you're always at the pinnacle of your game.
Tools aren't just utilities; they're force multipliers. Equip yourself with the best to elevate your recruitment journey. Dive in now!
10: Insights, Productivity, Mindset
Elevate Your Recruiting Game with Expert Perspectives
Beyond tools and techniques, there's a realm of insights, strategies, and mindsets that shape the best in the recruitment industry. Dive deep into candid conversations with the industry's leading luminaries, drawing from their rich experiences, successes, and learnings.
What's Inside:
Exclusive Expert Interviews: Engage with over 20 insightful conversations featuring recruitment specialists, agency owners, and HRTech product managers.
Broad Spectrum of Topics: From sourcing and screening to interviewing and staying resilient, explore multifaceted dimensions of the recruitment industry.
Balancing Skill and Spirit: While the interviews are brimming with industry best practices and productivity hacks, they also shine a light on nurturing a positive mindset amidst the challenges.
Key Takeaways:
Expanded Knowledge Horizons: By tapping into the collective wisdom of industry trailblazers, discover nuanced approaches and innovative solutions.
Productivity Unlocked: Embrace proven strategies and shortcuts, ensuring you're always working smarter, not just harder.
Mindset Resilience: Gain tools and perspectives to maintain an upbeat and positive attitude, even when faced with the inevitable setbacks of the recruitment world.
Transformative Benefits:
Elevated Professionalism: Infuse your recruitment practices with tried-and-tested techniques and strategies straight from the pros.
Balanced Workflow: Merge productivity with positivity, ensuring a holistic approach to your recruitment tasks.
Continuous Growth: Even as an optional module, it's a goldmine for those committed to refining and expanding their recruitment prowess.
A Glimpse into the Minds of the Best:
While this module is optional, it's an unparalleled opportunity for high-achievers to get up close and personal with industry stalwarts, absorbing their wisdom and integrating it into their professional journey.
Dive deep into the reservoir of expert wisdom. Equip, enlighten, and empower yourself for a successful recruitment journey like no other!
Certification Exam & Certificate
Validate Your Expertise & Elevate Your Career
Your journey through our comprehensive tech recruitment training culminates in a robust examination, designed to evaluate your skills, insights, and expertise. This is more than just a test—it's your gateway to standing out in the tech recruitment field.
What to Expect:
A Rigorous 45-Minute Assessment:

Delve into a balanced mix of multiple-choice and open-ended questions, challenging every aspect of your learned expertise.
Why It's Crucial:
A Testament to Your Proficiency: Passing the exam isn't just an achievement—it's a testament to your readiness to excel in the tech recruitment space.
Tangible Proof of Your Skills: The certificate isn't just a piece of paper. It's proof of your dedication, hard work, and, most importantly, your mastery in tech recruitment.
A Boost in Professional Credibility: Proudly feature your certification on LinkedIn and in your resume, showcasing your enhanced expertise to employers and peers.
Transformative Benefits:
Elevated Career Trajectory: Certified recruiters stand out, receiving recognition and preference in a highly competitive field.
Enhanced Confidence & Credibility: Approach your role with renewed vigor, knowing that you're now operating with a verified set of skills and knowledge.
Increased Success Rate: Certified recruiters don't just succeed—they excel, outperforming peers and setting new benchmarks in tech recruitment.
Your Stamp of Excellence in Tech Recruitment:
Earning this certificate is not just about completing a course—it's about claiming your spot as a leading professional in the tech recruitment arena. Differentiate yourself, bringing tangible value to every recruitment project you touch.
Seal your commitment to tech recruitment excellence. Take the exam, earn the certificate, and let the world recognize your expertise!