Start Your New Career
Free Tech Recruiter Course
with Michal Juhas, the international tech recruitment expert, author, and YouTube content creator.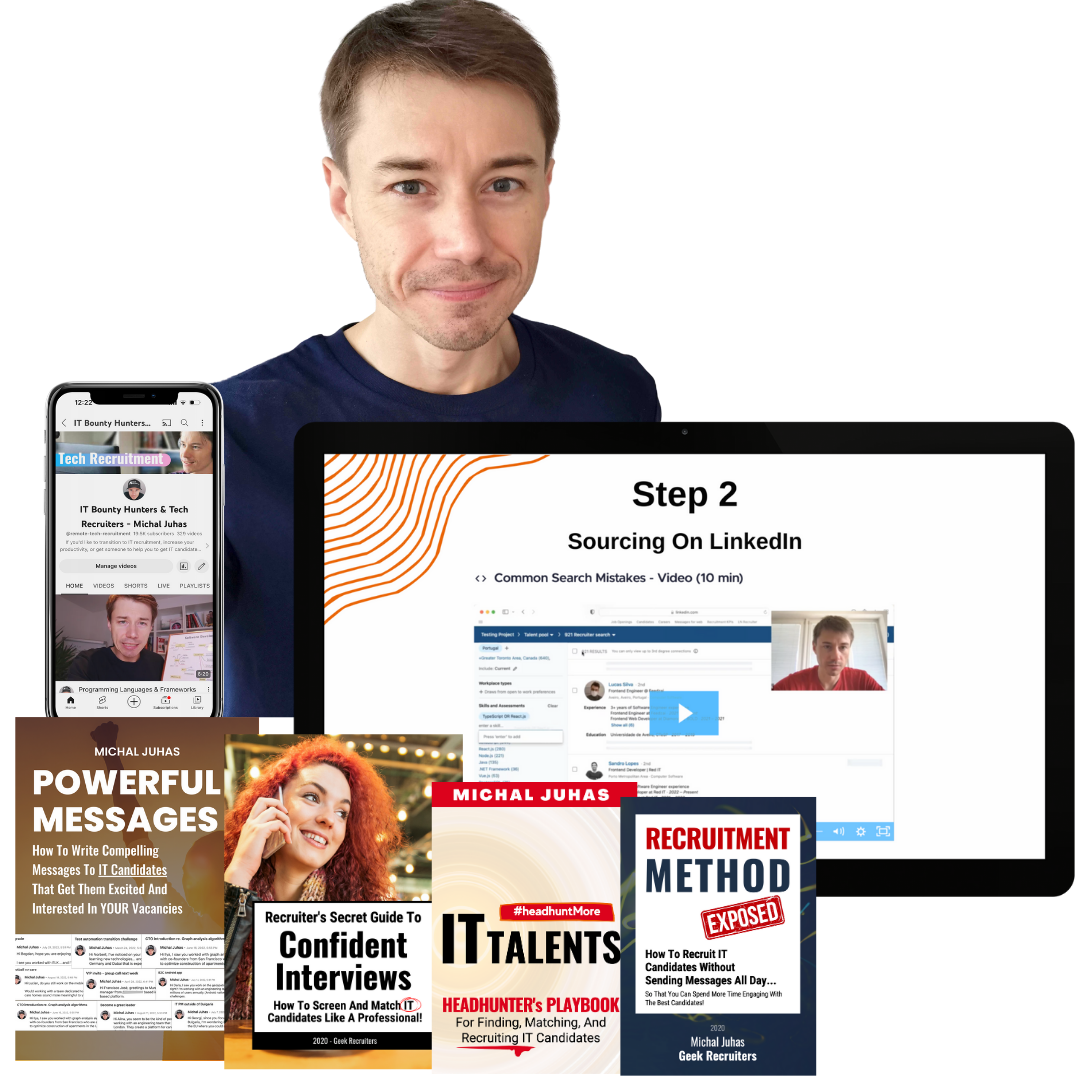 Learn How To Become a Tech Recruiter For Free
NO EXPERIENCE NEEDED! Just take advantage of what we've already prepared:
Links To Great Resources

Get links to the best free resources and the order to work through them to learn tech recruitment fast.

Projects & Exercises

Start practicing on real-world recruitment projects.

Build Your Resume

Get a resume template that actually works.

LinkedIn

LinkedIn tips so you can get a better tech recruitment job.

Salary Guide

Tech recruiter salary guide so you know how much money to ask for.
Free Course Curriculum
This is your chance to learn the basics and study on your own.
Step 1: Download eBooks
PDF eBook "Headhunt IT Talents"
PDF ebook "Recruitment Method Exposed"
Step 2: Learn Tech Recruitment In 60 Minutes
Learn common mistakes in Tech recruitment and how to avoid them
Learn the steps in full-cycle IT recruitment
Step 3: Learn The IT Roles
Learn the basic IT terminology
Learn the common IT roles
Learn what programming languages and software frameworks software engineers use
Step 4: Craft The Perfect Resume
Use our resume template and tips to update your resume for data analytics positions
Step 5: Leverage The Power Of LinkedIn
Update your LinkedIn to look professional
Optimize your LinkedIn so recruiters will start reaching out to you
Step 6: Know What Commissions To Ask For
Use our Commission Calculator and Salary Guide to understand what range to aim for so you can negotiate for the best possible salary and commission
Our Free Course &
Our Certificate Program
The free course and the paid course are two completely different things.

The free course is a list of free resources you can use to learn on your own, and the paid course is a standalone complete guide to learning data analytics with step-by-step details, data analytics software downloads, and real guided projects. The paid course was entirely created by Michal Juhas, including all the projects that you'll do within it. Here's a comparison:
How Do I Choose Which Course Is Right For Me?
If you want to learn tech recruitment skills for free and just need to be pointed toward the right resources, start with our Free Tech Recruitment Course. If you know you'll need step-by-step guidance, you'll be more successful with the Tech Recruiter Certificate Course. Both are for complete beginners!
Watch the video to learn more about the differences: