Find More IT Candidates, Faster
Join The BOOSTER Program To Increase Your Conversions, Get More Candidates To Respond to Your Messages, and Close More IT Vacancies!
Now only €297 + €49/mo (Special Offer)
Only 15 onboarding slots are available on Nov 30, 2023.
"High-Tech Startups And Staffing Agencies Are
Hiring Senior Tech Recruiters!"
Companies in the US, UK, Canada, and Europe look for SENIOR technical recruiters and HR specialists who can find the right IT candidates on social networks and online databases, and submit them to hiring managers for interviews: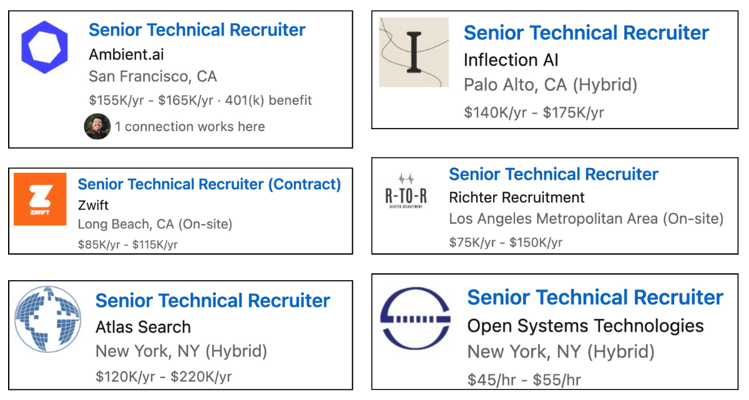 Find a Better Job Or Get Promoted Internally... And Earn More Bonuses!
If you are like other HR managers, TA specialists, headhunters, and recruiters we work with, you could earn a lot more in commissions and bonuses IF ONLY you could get the right IT candidates—consistently and predictably.
Companies are fighting for tech talent. Candidates' salary expectations keep increasing... and they don't visit job boards and don't want to speak with recruiters anymore.
The last person they want to speak with is a recruiter who knows NOTHING about IT.
You don't want to be the person!
And when a few CVs finally land on your desk, you want to be able to screen candidates quickly and check if they are a good fit or not.
What do you say during a screening call so they feel you actually know what you're talking about and respect you as a Tech Recruiter?
Look, I'm sure you'd like to fill a lot more IT vacancies if you could 1. find the right candidates faster and 2. "sell them" on your open vacancies.
And you're probably frustrated because very few candidates actually respond to your messages.
You might have tried different approaches, sent LinkedIn invites, long emails, short invite messages, and InMails, too...
Probably you have tried a few expensive job boards, but very few good candidates applied.
If you don't learn to "speak the same language" with these IT pros, you'll struggle to recruit the right IT candidates in the long run.
IT specialists will not take you seriously! Hiring managers neither...
And you'll keep wondering why do they NOT respond to your emails or InMails...
Leaving you frustrated as you chase more and more candidates, not hitting your KPIs and hiring manager's expectations.
This costs you a lot of money in the long run!
You are not only wasting your time and energy but also missing out on your commissions and bonuses!
The good news is that our online course can help you take advantage of the opportunities ahead!
Take Advantage Of An Abundance Of Opportunities In Tech Recruiting

Tech recruiters in the United States earn an average annual salary of $70,000 to $110,000, with experienced professionals commanding salaries exceeding $140,000, as reported by Glassdoor.
Unlock your earning potential with our advanced training!

Productivity gains of up to 30% have been observed when tech recruiters leverage advanced sourcing techniques and automation tools, according to a study by Deloitte.
Supercharge your productivity with our cutting-edge training modules.

LinkedIn's data shows that 78% of tech recruiters who invest in continuous learning and professional development opportunities, such as certifications and specialized training, advance to higher-level positions within two years.
Elevate your career prospects with our training programs!
Worldwide educational program
Tech Recruiter
Booster Program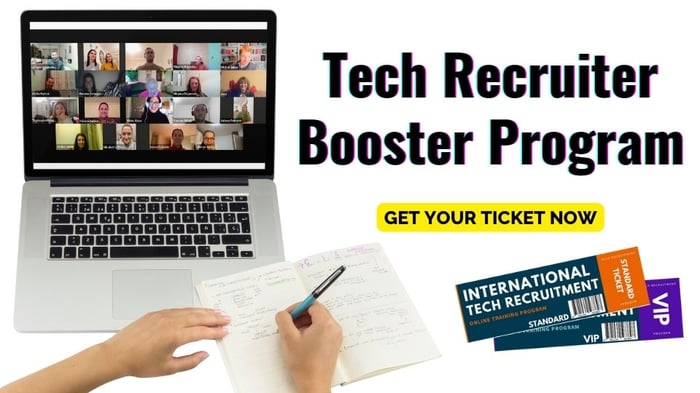 The Tech Recruiter Booster Program is an online course that will help you get more candidates to respond to your messages, increase your conversions, and close more IT vacancies faster and easier.
Only 15 onboarding slots are available on Nov 30, 2023.
Hundreds Of HR Specialists Completed This Program And Started Working In Awesome Companies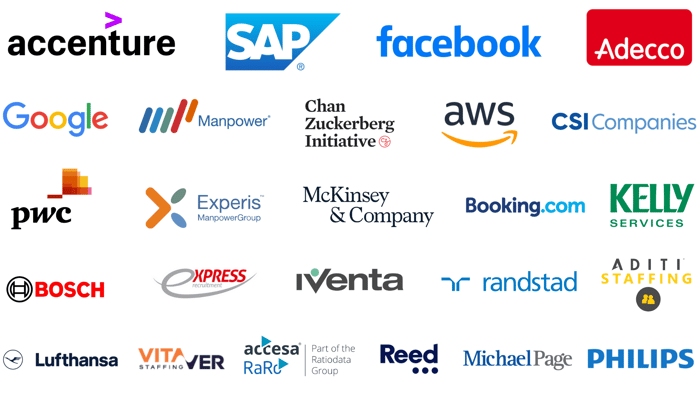 What Kind Of Results Should You Expect From The Booster Program?
In-Depth Tech Understanding
Gain a comprehensive understanding of current technologies, trends, IT roles, and the IT landscape, including the latest in programming languages, cloud computing, and DevOps.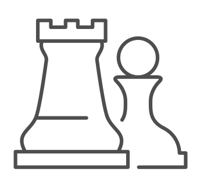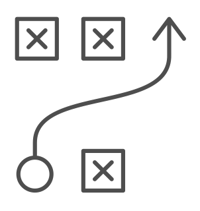 Facilitate smoother communication and collaboration with hiring managers leading to a deeper understanding and better alignment with candidate profiles.
Faster Candidate Sourcing
Expect to source more specific and qualified candidates, using advanced strategies to identify top talent effectively and systematically.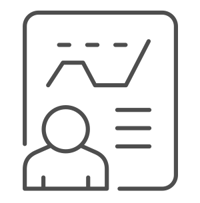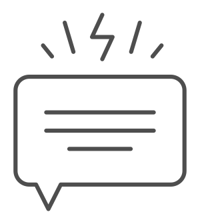 Experience a significant increase in the response rate from candidates, fostering better connections and interest.
Sharpen your interview techniques to quickly identify the candidates that truly fit the tech roles your hiring managers are looking to fill.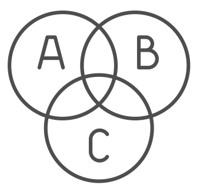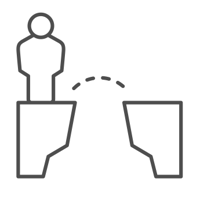 Achieve a higher number of successful placements per month, directly contributing to your and your company's success.
Start Using AI & Advanced Sourcing Tools
Learn to actively incorporate AI tools into your recruitment processes, making your search for candidates more efficient and data-driven.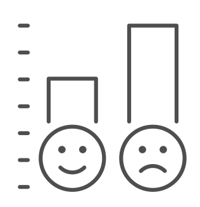 Efficient Recruiting Process
Learn to fill open positions faster and with greater ease, streamlining the recruitment cycle and improving hiring timelines. Place more candidates, increase your job satisfaction, and earn more money.
Only 15 onboarding slots are available on Nov 30, 2023.
Who Is This Program For?
The Tech Recruitment Booster Program isn't a one-size-fits-all solution. It's meticulously designed for certain professionals with a keen interest in refining their tech recruitment strategies:
Seasoned HR Professional
Get a better understanding of the IT world. Write better job descriptions. Implement new sourcing methods.
Experienced IT Recruiter
Organize better intake meetings with hiring managers. Become a business partner to CTOs and IT managers.
Recruitment Consultant
Broaden your services and ensure your clients achieve better results.
Seasoned Tech High Achiever
Let this program be the perfect launchpad for your success in the high-tech job market. Excel in your role without burnout, and achieve a better work-life balance.
Only 15 onboarding slots are available on Nov 30, 2023.
Here's How This Program Works:
The Tech Recruiter Booster Program equips you with everything you need to excel at your job, become a professional Tech Recruiter, and earn more commissions and bonuses: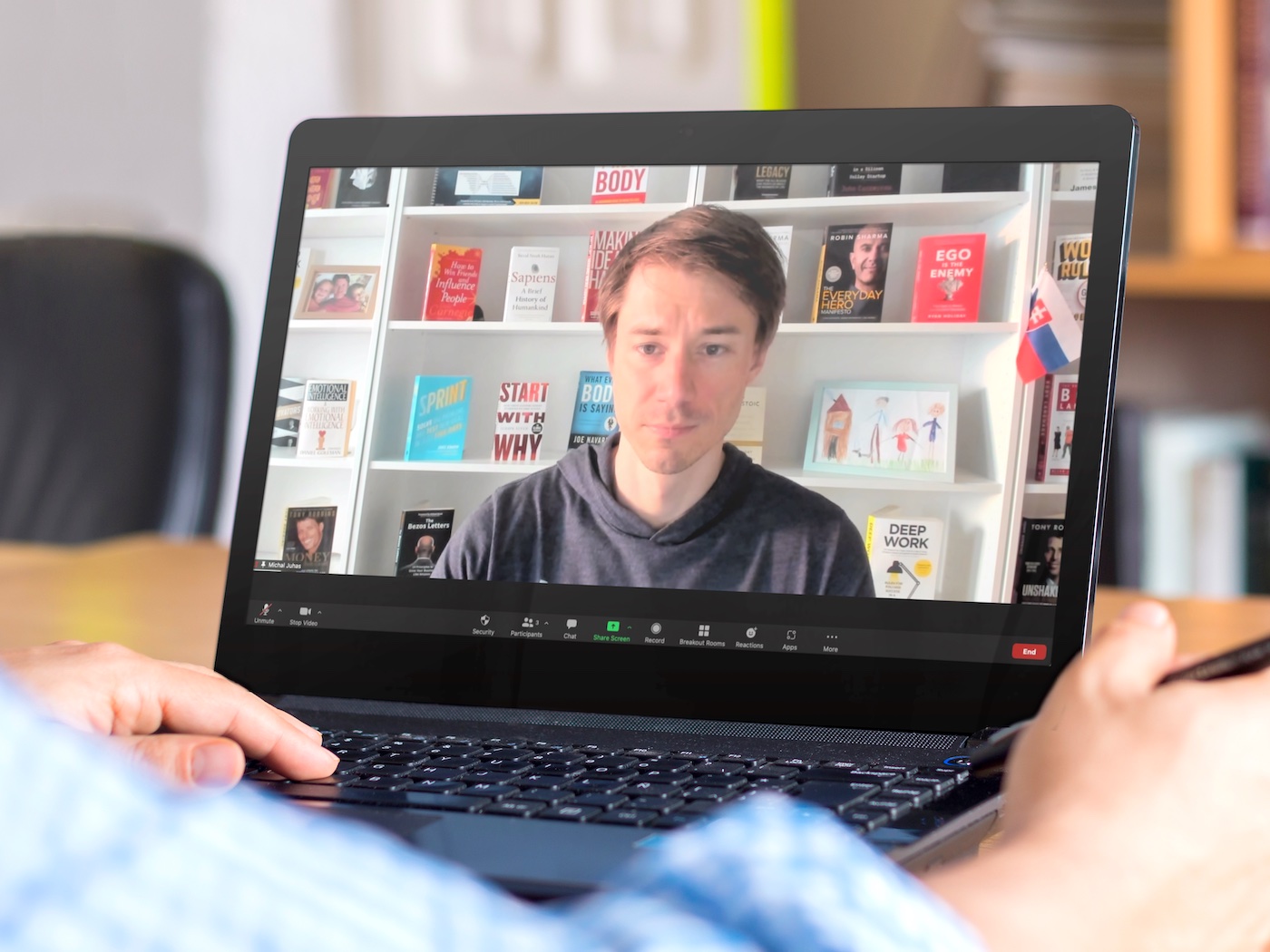 Join Expert Sessions

Dive deep with Michal Juhas, an internationally acclaimed tech recruitment expert, as he shares insights and strategies that can transform your recruitment process.

Learn Sourcing Tricks

Watch and learn with screen share videos that give you a front-row seat to efficient sourcing methods.

Get Exclusive Access to our Tech Recruiter Community on Discord

Collaborate, share, and grow with a community of like-minded professionals.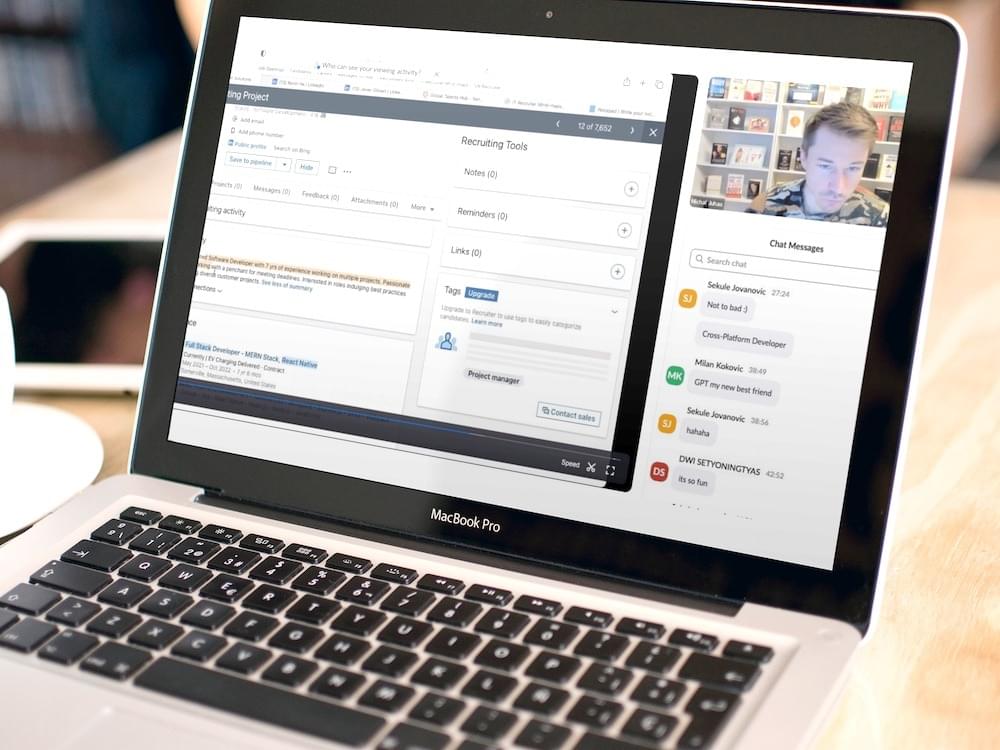 Learn From Practical Case Studies

From sourcing to messaging, screening candidates, and promoting vacancies – master it all with hands-on examples, and learn from real-world situations.

Discover the Latest Tools

Stay ahead of the curve with an overview of the newest tools in the tech recruitment world.

Get Insights From Industry Experts

Gain a unique perspective with interviews from leading industry professionals.
Only 15 onboarding slots are available on Nov 30, 2023.
Get Results Thanks To Four Core Elements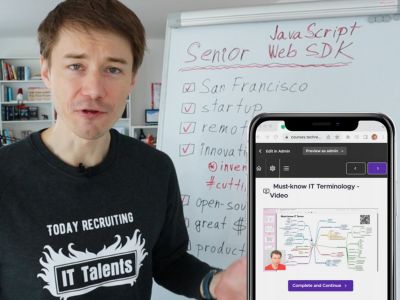 Daily Training & Exercises
You will receive daily content and engaging exercises designed to deepen your understanding of tech recruiting. This daily learning approach keeps you motivated and steadily builds the skills you need to excel in the field.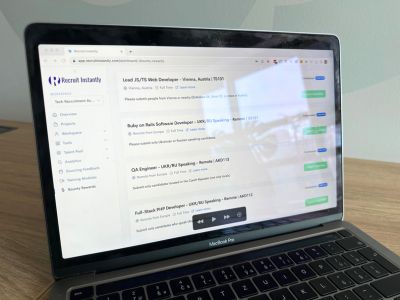 Work On Real Projects For Clients
You'll work on real job requirements and projects, giving you hands-on experience to apply your newfound knowledge to real-world scenarios. This ensures you're job-ready and capable of delivering results from day one.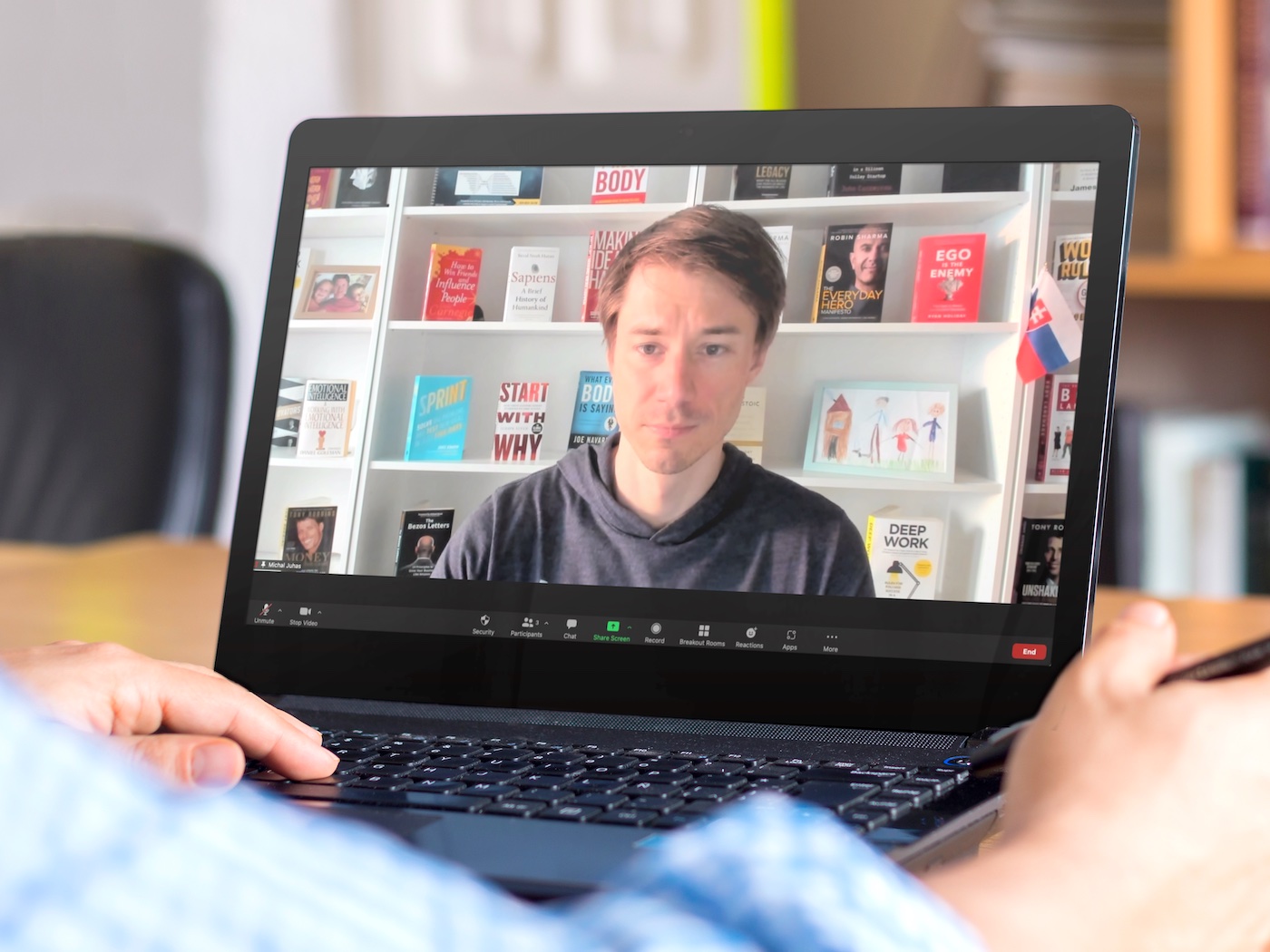 Get Your Personal Mentor
Our expert mentors will provide you with personalized guidance and feedback, helping you navigate challenges, refine your skills, and build confidence in tech recruiting. This one-on-one support accelerates your learning process and fosters mastery of the subject matter.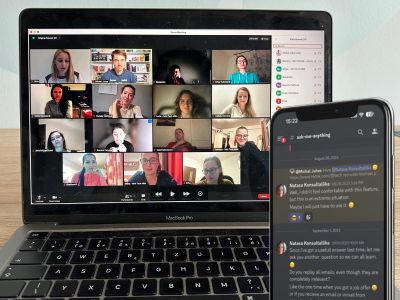 Group Coaching & Community
Through group coaching sessions and our vibrant community, you'll have the opportunity to connect with your peers, share insights, and collaborate on solving complex recruiting challenges.
This creates a supportive network that continues to offer guidance and motivation even after the course ends, ensuring your ongoing success in tech recruiting.
Only 15 onboarding slots are available on Nov 30, 2023.
Join Our Upcoming Live Sessions
Join us on Zoom LIVE on Tuesdays and Thursdays. All lectures and Q&A sessions are held online. If you miss a lesson, you can view its recording in your personal account.

10:00am - 12:00pm (UTC-4)
New York, USA

3:00pm - 5:00pm (UTC+1)
London, UK

7:00pm - 9:00pm (UTC+4)
Dubai, UAE

11:00pm - 1:00am (UTC+8)
Singapore
You will get invited to LIVE calls on Zoom even before you complete the self-study eLearning: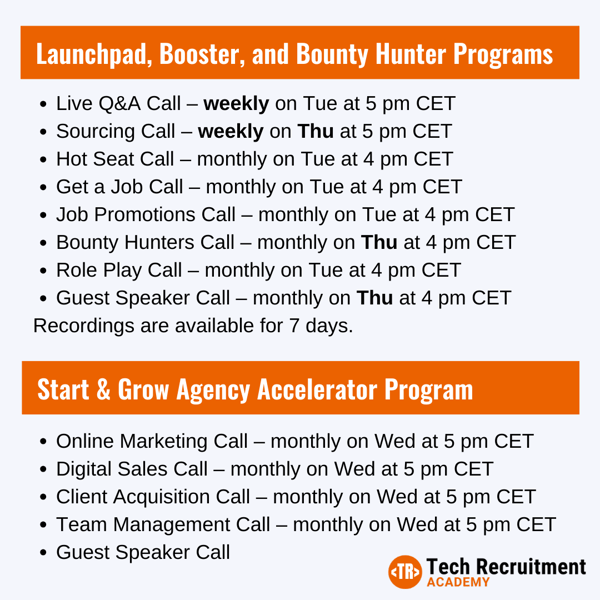 The BOOSTER Program Includes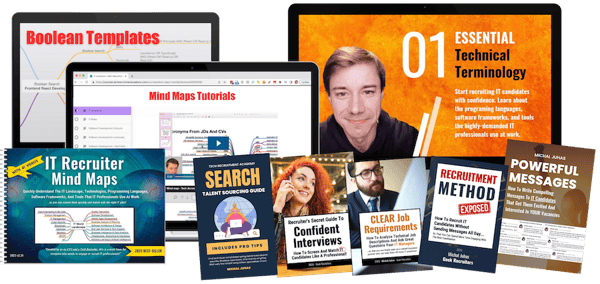 The "Complete Tech Recruiter Certification" Course
This is our best-selling course, learn more about it here.
Standard price: €397++
Included in this special offer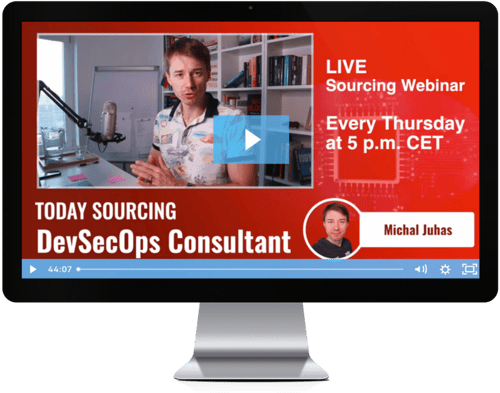 90+ IT Sourcing Guides & Video Recordings
This is the most comprehensive library of sourcing strategies you can get as of 2023. We've been recording the Sourcing Webinars for the last three years and now you can get immediate access to all past recordings that cover all IT roles: how to find candidates and engage with them. Each video is 45-60 minutes long, you can learn more about this library here...
Standard price: €299++
Included in this special offer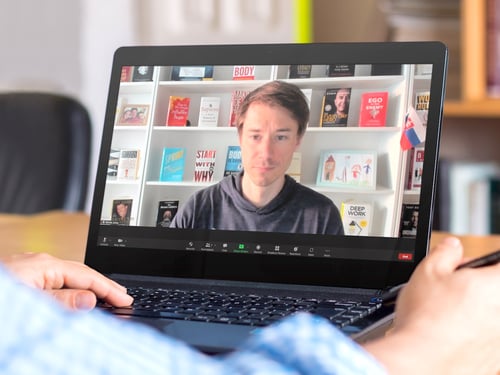 Four Individual Calls With Our Mentors
45 min: Sourcing Mentoring #1 (Call on Zoom)
45 min: Sourcing Mentoring #2 (Call on Zoom)
30 min: Preparation for an intake appointment (Call on Zoom)
30 min: Preparation for a candidate screening (Call on Zoom)
Standard price: 4 x €49 = €196++
Included in this special offer
Now Available In A Special Package:
The "Complete Tech Recruiter Certification" Course: €397++
90+ IT Sourcing Guides & Webinar Recordings: €299++
Four Individual Calls With Our Mentors: €196++
Total Value: €892... Get It All Now For Only:
€297++ plus €49/mo for group training calls
Only 15 onboarding slots are available on Nov 30, 2023.
What's Included? Everything You Need To
THRIVE As a Tech Recruiter!
This curriculum includes videos, walkthroughs, screenshares, and guided projects to help you become a productive Tech Recruiter. By the end, you'll complete 3 real sourcing projects that you can feature on your LinkedIn profile to prove you're ready for the next job!
Initial assessment: Test your knowledge so you can benchmark yourself with other tech recruiters around the world.
Onboarding call and personalized growth plan: Hop on a call with tech recruitment experts to discuss your learning roadmap and the best way to maximize the outcome of this course.
70+ mind maps with video tutorials: Get access to our best-selling mind maps with 30+ video tutorials that will help you understand the IT landscape.
Discord community: Ask questions throughout the course and network with other students and grads to grow your LinkedIn network.
Advanced sourcing: Learn advanced sourcing strategies to find the right IT talent—faster and easier.
Improve and rewrite job requirements: Become a Pro in attracting the best candidates by writing more compelling job ads.
Promote jobs on job boards: Learn how to publish jobs on popular job boards so you can get more candidates, faster.
Case studies: Get access to 90+ case studies that cover most of the IT roles.
Engagement with IT candidates: Practice sending messages to prospective candidates for real-world vacancies.
Screening: Learn how to prepare for an interview with tech candidates.
Expert insights: Get access to a library of interviews with industry experts who share their recruiting best practices, tips, and tricks.
ChatGPT: Learn how to use ChatGPT to help you with Boolean search queries, messages to prospective candidates, and post jobs on social media.
Your new resume: How to add your new skills to your resume (free template included!) to stand out when you apply for jobs.
Preparation for a job interview: Nail your tech recruiter interviews and excel on the job by using the right lingo.
Recruiting tools: Learn how to use LinkedIn Recruiter and popular ATS tools.
Certificate exam and Certificate of completion: Feature your new skills on your resume and your LinkedIn profile.
Only 15 onboarding slots are available on Nov 30, 2023.
Note: If you're new to recruitment or seeking foundational knowledge, this program might not be the best fit. It's an advanced course tailored for those ready to elevate their existing skills and methodologies to the next level. Please visit our Starter Program...
Feature Your New Certificate
Here's what your certificate and projects will look like on your LinkedIn profile: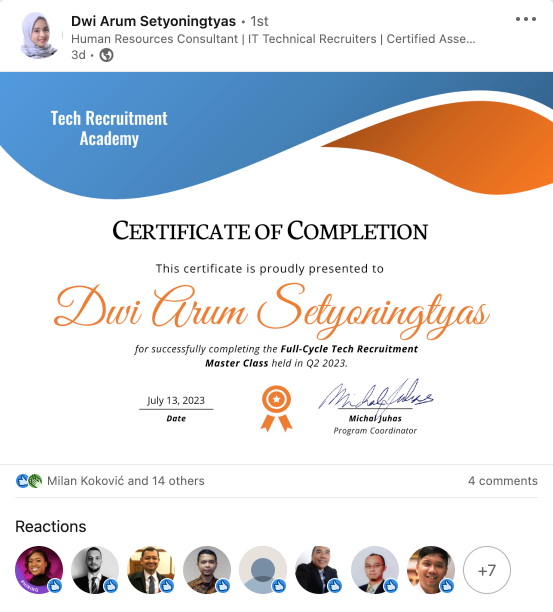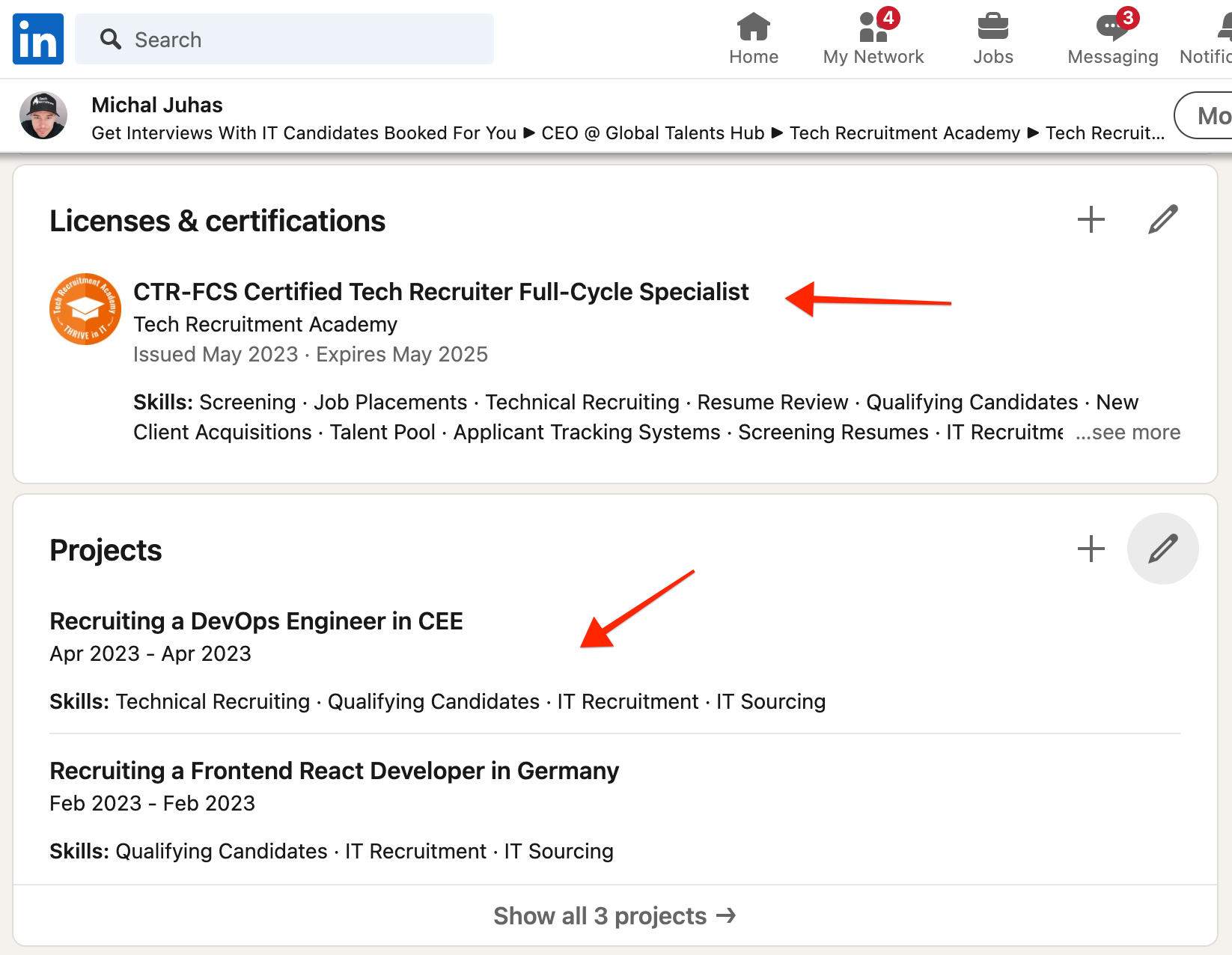 Thu, Nov 30, 2023
Reserve your seat to be onboarded to the Tech Recruiter Booster Program on Nov 30, 2023, and get:
+ A 25% "Early Bird" discount (if paid before Nov 30, 2023)
+ Immediate access to Complete Tech Recruiter Course
+ Immediate access to Sourcing Guides & Recordings
+ Call: Personal onboarding with career strategy
+ Call: Sourcing mentoring (2x)
+ Call: Preparation for an intake appointment
+ Call: Preparation for a screening call
+ Join LIVE group calls on Zoom
+ Access to our community on Discord
Instead of €892 now only €297 + tax for the course and €49/mo to join training calls.
Fill in this form to get started:
Why Join Now?
In the fast-paced world of tech recruitment, timing is everything. The September 2023 cohort offers a unique blend of opportunities and benefits that shouldn't be missed:
Stay Ahead of the Curve
Tech is evolving rapidly. By diving into this program now, you'll be armed with the latest strategies and tools, ensuring you're always one step ahead of your competition.
Limited Seats, Focused Attention
To maintain the quality and intimacy of our sessions, we cap the number of participants. Joining now guarantees your spot in this exclusive cohort, ensuring you get the attention and guidance you deserve.
Earn More Bonuses, Sooner
The sooner you refine your recruitment strategies, the quicker you'll see results. Faster fills, better candidate matches, and improved employer branding are just around the corner.
Network with the Best
The September cohort will bring together some of the brightest minds in tech recruitment. This is a golden opportunity to expand your network, forge meaningful connections, and learn from peers as passionate as you.
Only 15 onboarding slots are available on Nov 30, 2023.
Meet Your Instructor
Learn Tech Recruitment with Michal Juhas, the international tech recruitment expert who has trained over 40,000 IT and HR specialists online.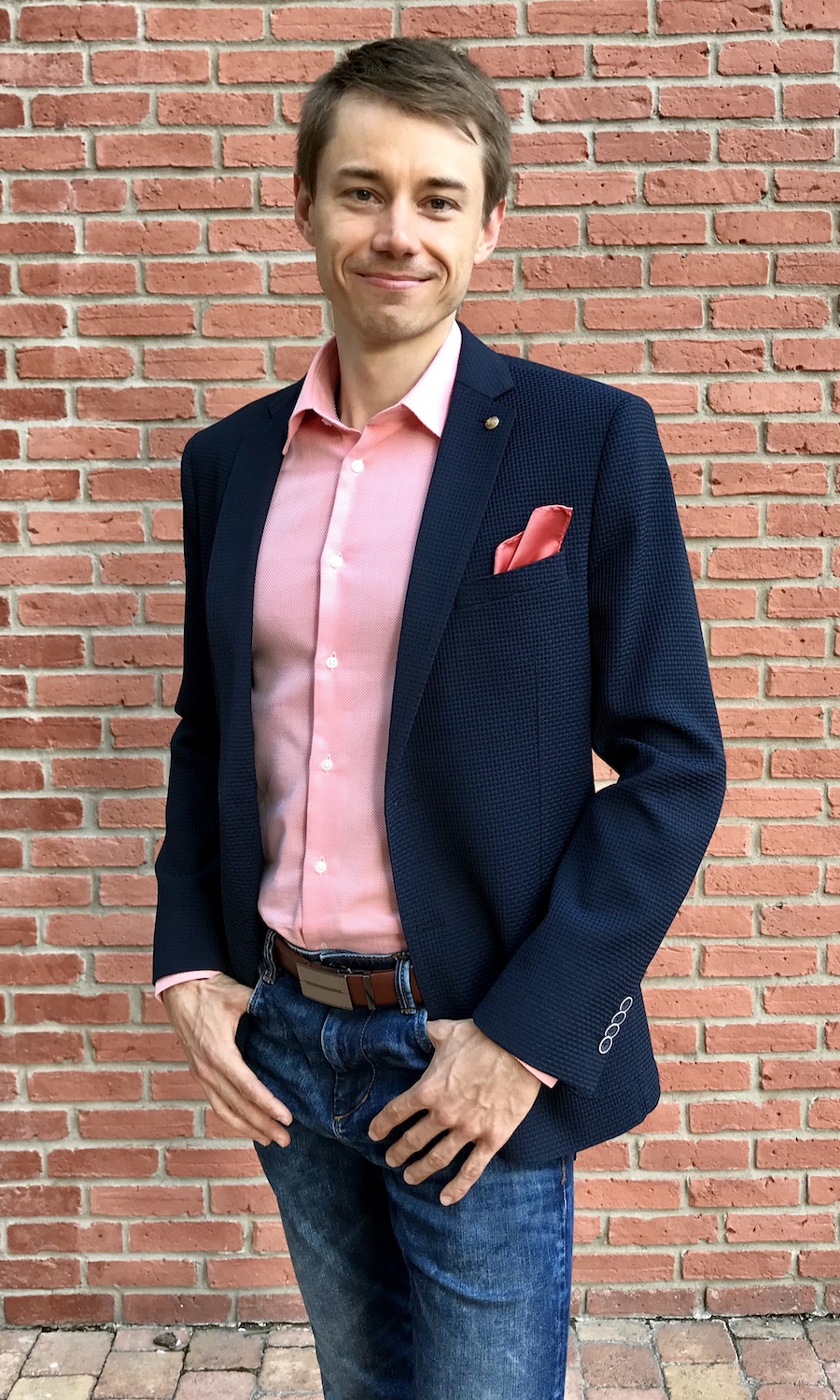 Hi, I'm Michal Juhas!
As one of YouTube's leading tech recruitment influencers, my entire YouTube channel with 400+ videos and 30,000+ subscribers is full of free information detailing how to get started in Tech Recruitment.
I've also created a free tech recruitment course for anyone who needs minimal guidance to get started on their own.

Why? Because when I was the CTO and hired software engineers, I realized very few headhunters and recruiters actually knew anything about IT and IT roles. They couldn't help me hire the right IT candidates and when I moved from Thailand back to Europe, I decided to change it and started teaching HR specialists and recruiters the IT essentials.
Over the years, I trained over 40,000 IT and HR specialists online and on-site. I also run a staffing agency called Global Talents Hub as a Lead Tech Recruiter where I use the same principles, methods, and materials to onboard and teach new colleagues.
Now I know exactly what it takes, I'm sharing this with anyone else who wants to do what I do!
Our Tech Recruitment Certification Program was designed for people who want detailed, step-by-step guidance to learn everything you need to land a great Tech Recruitment job. My screenshares, webinar replays, walkthroughs, and hands-on practical exercises ensure you're ready for a new career in Tech Recruitment.
I believe we all deserve a career that pays us enough not just to survive but to thrive. All of my resources (free or paid) were designed to help you break into tech with Tech Recruitment so you can make the salary you deserve, achieve true work/life balance, and focus on what really matters in life.
Let's do this!
– Michal
We've Trained Recruiters Who Work In These Awesome Companies: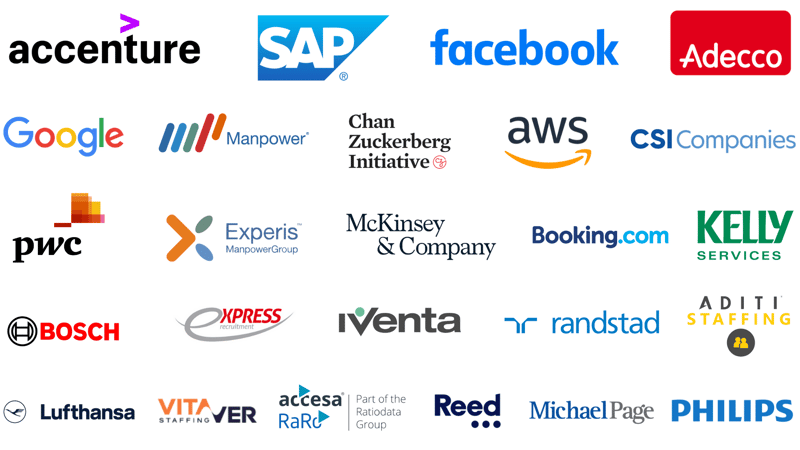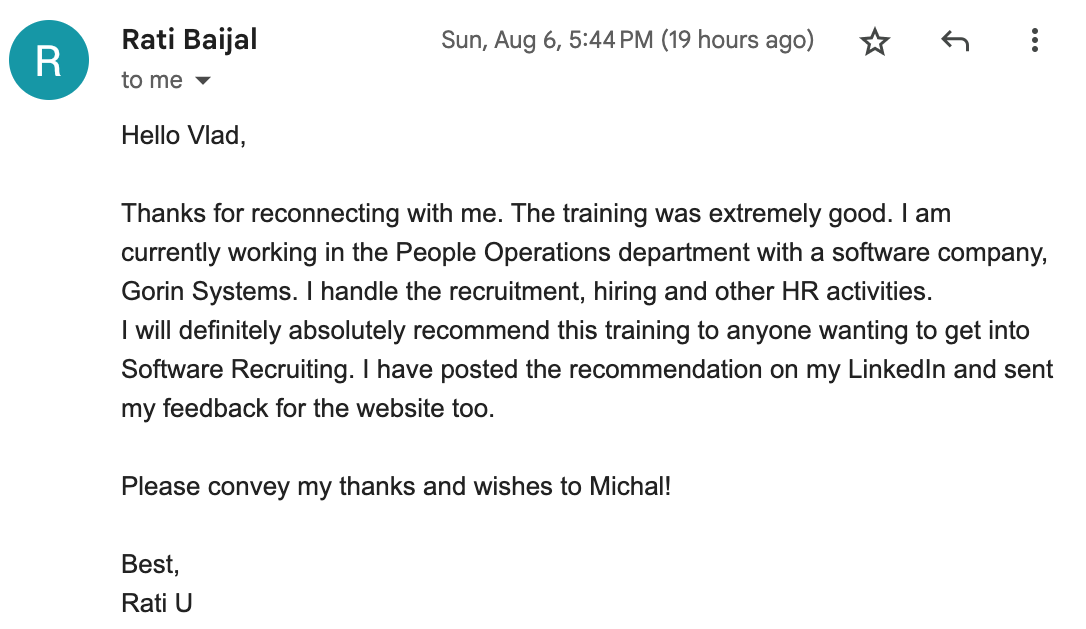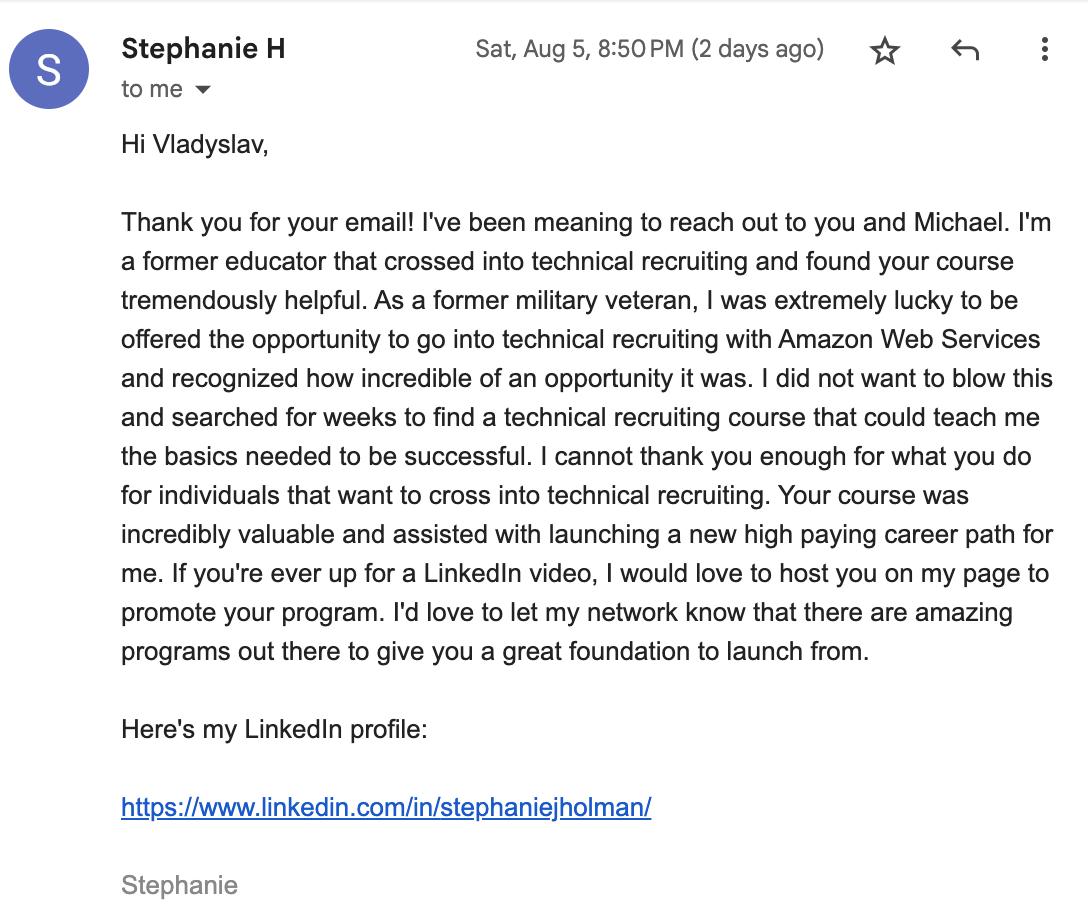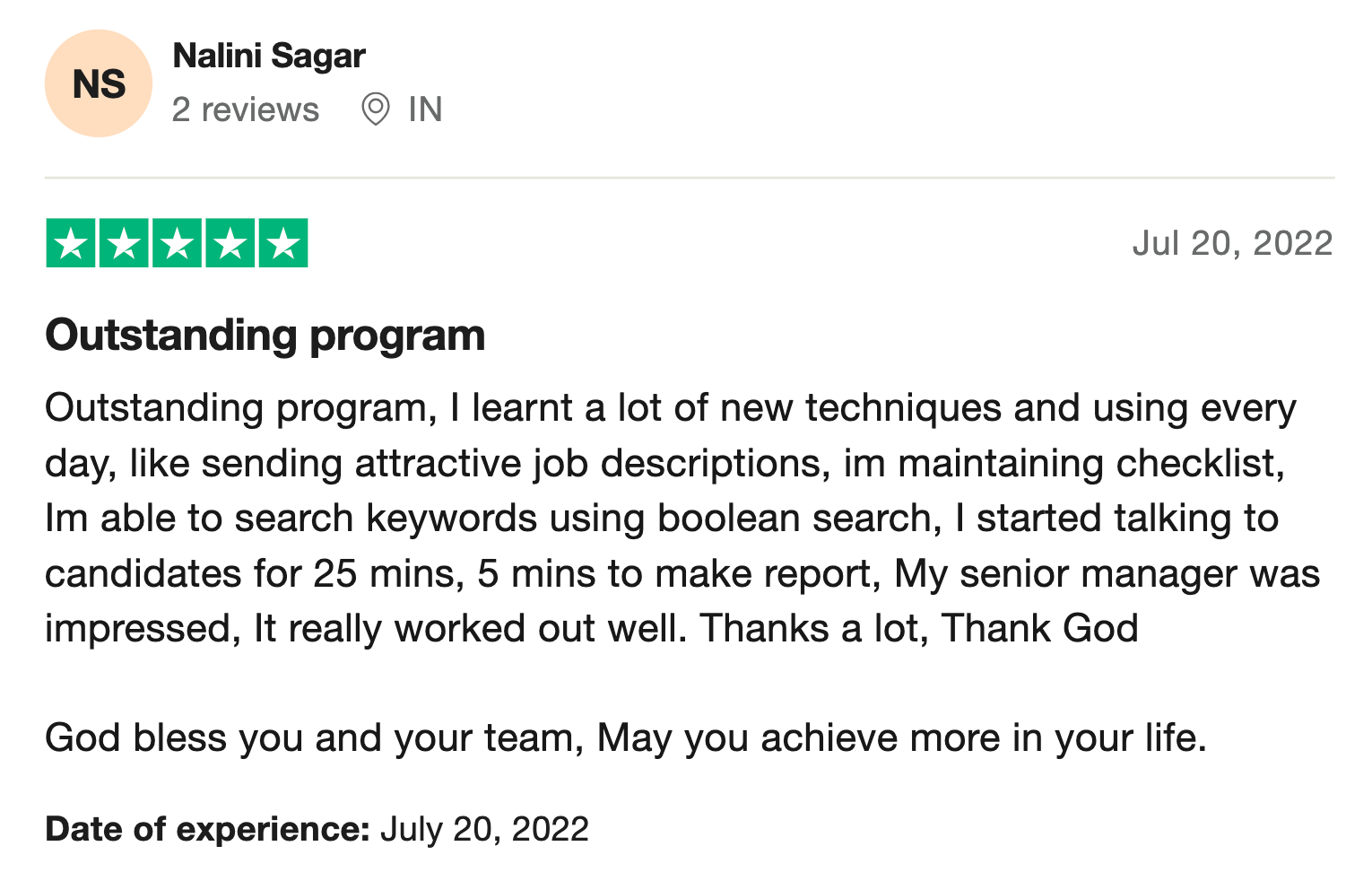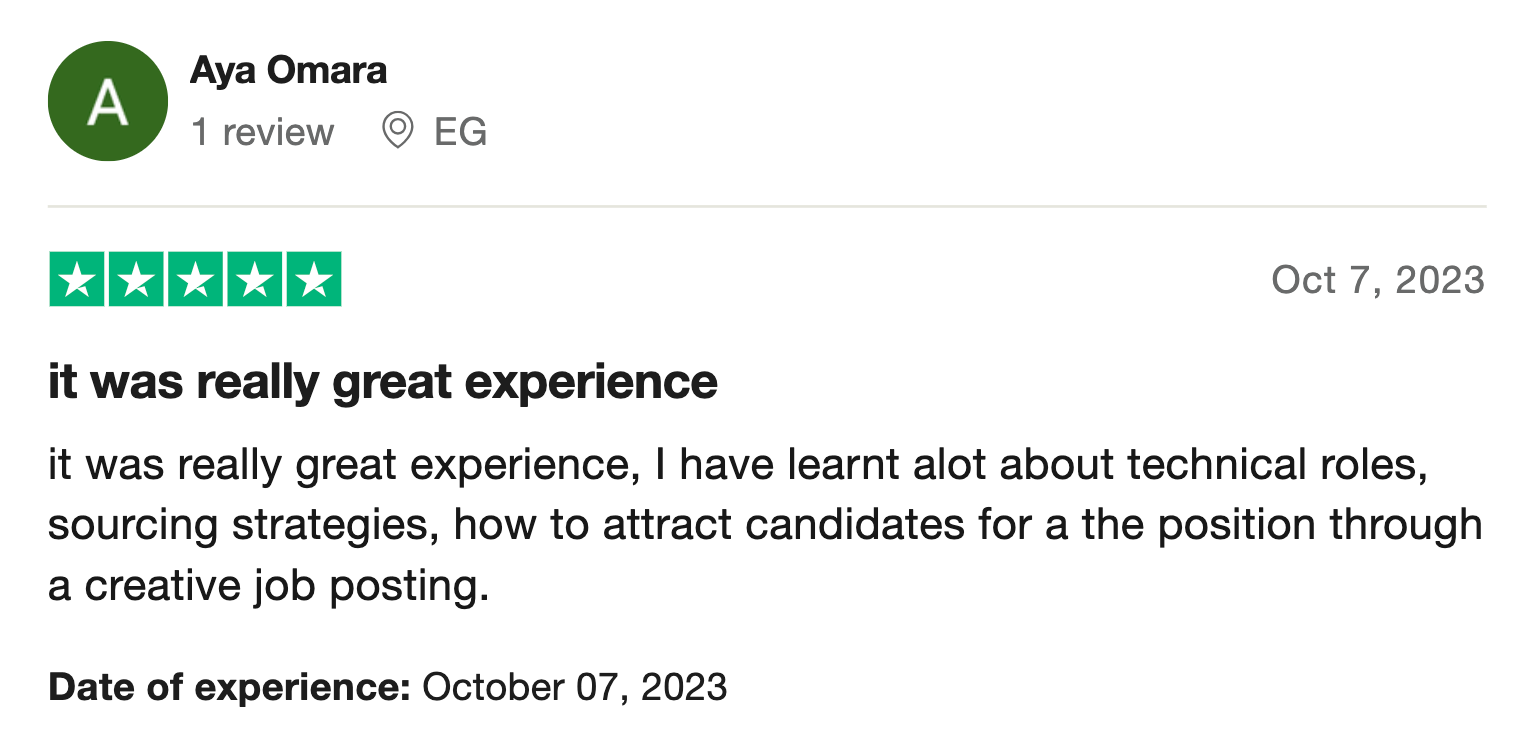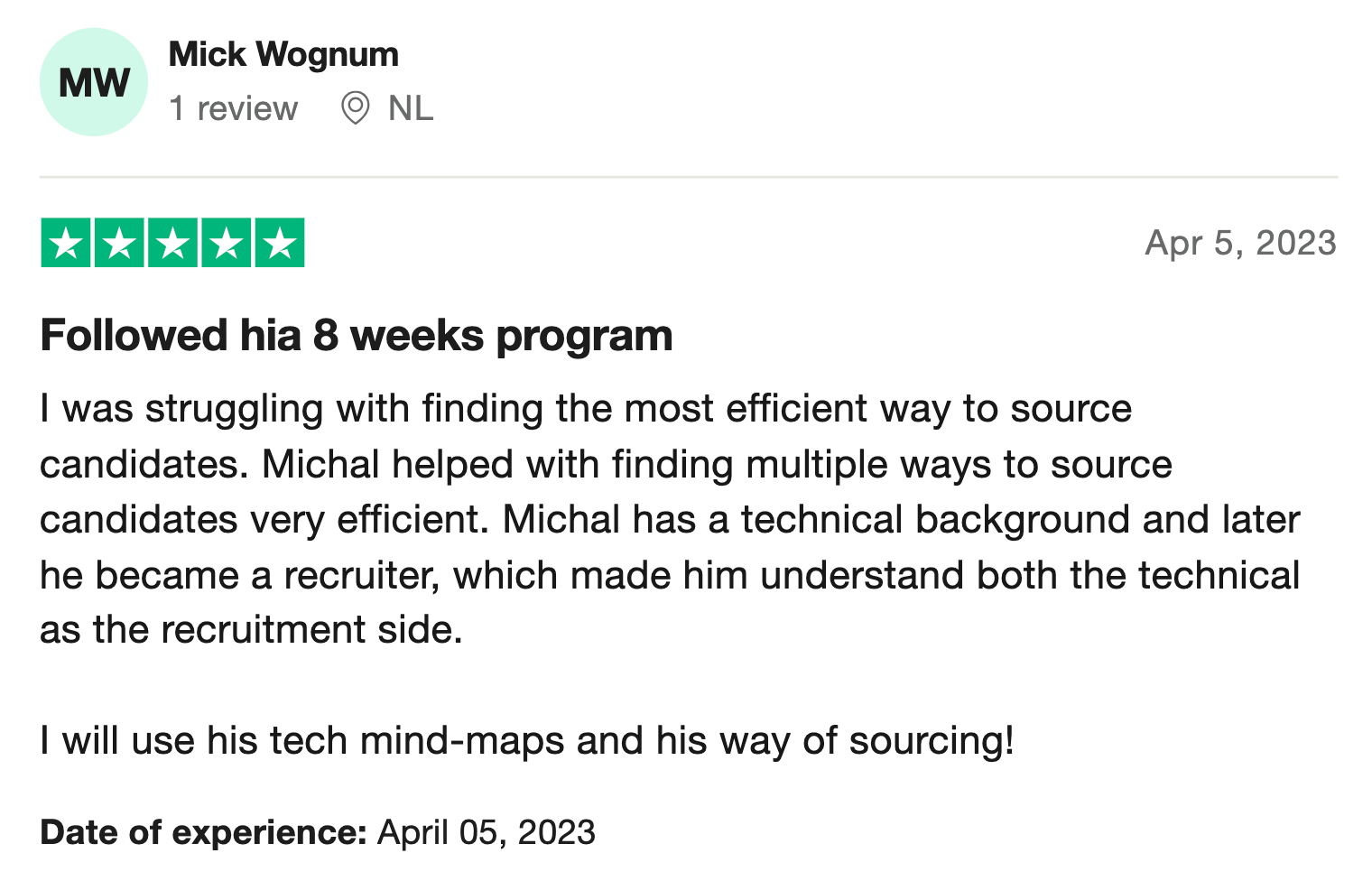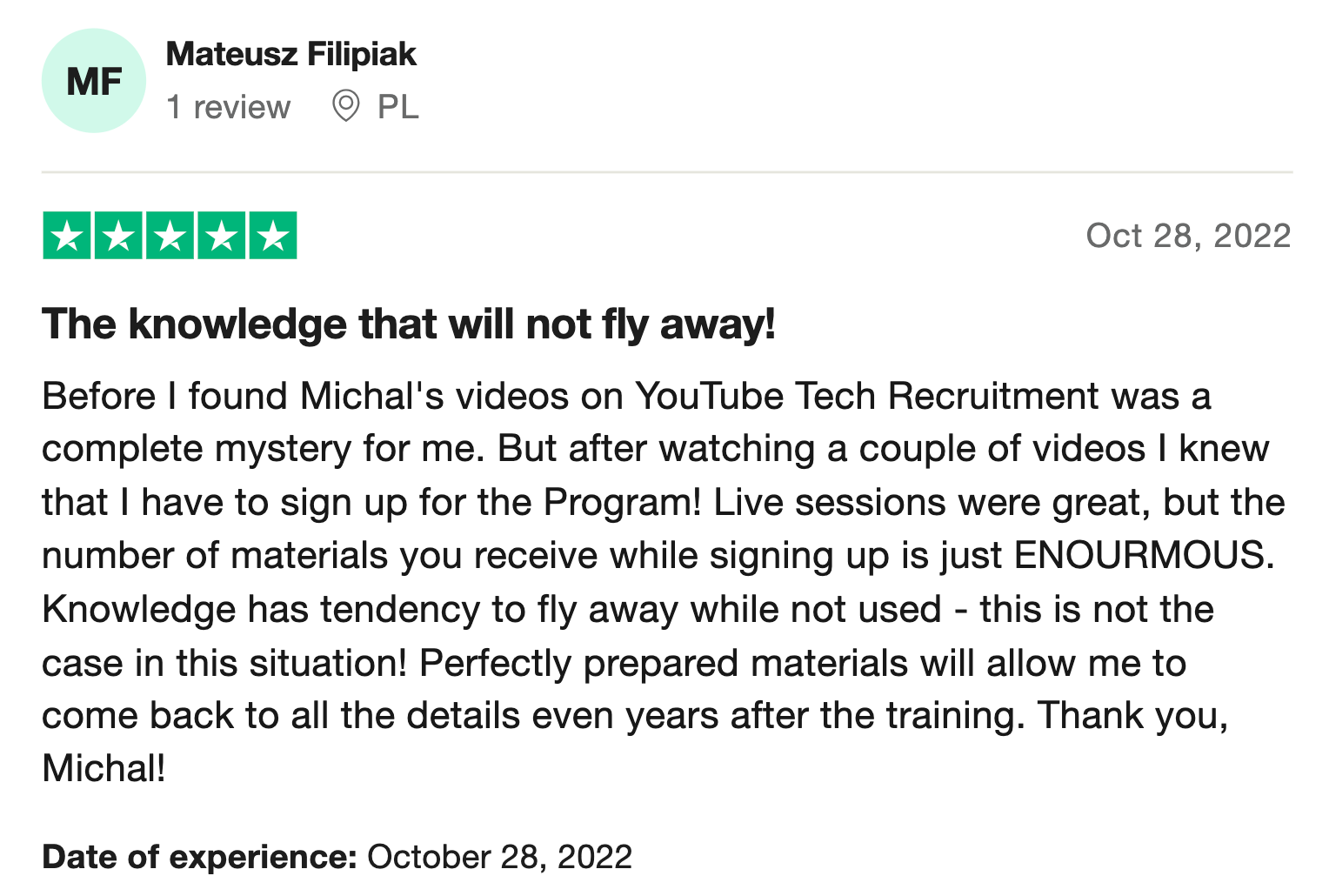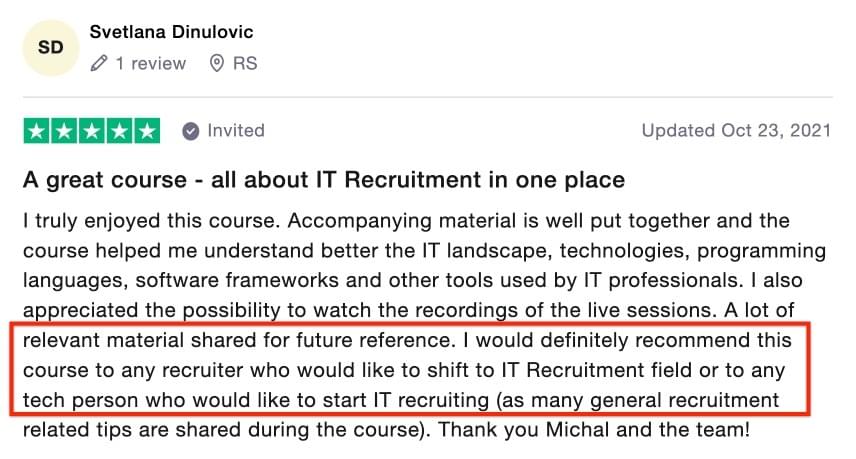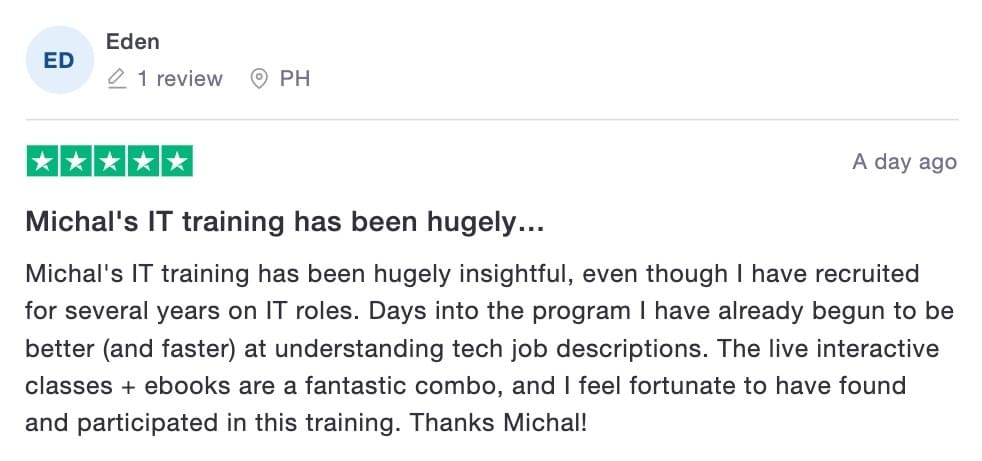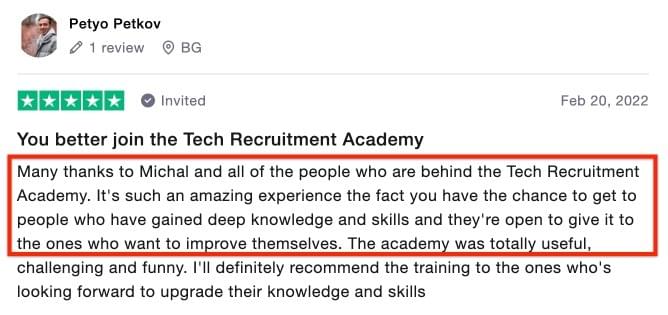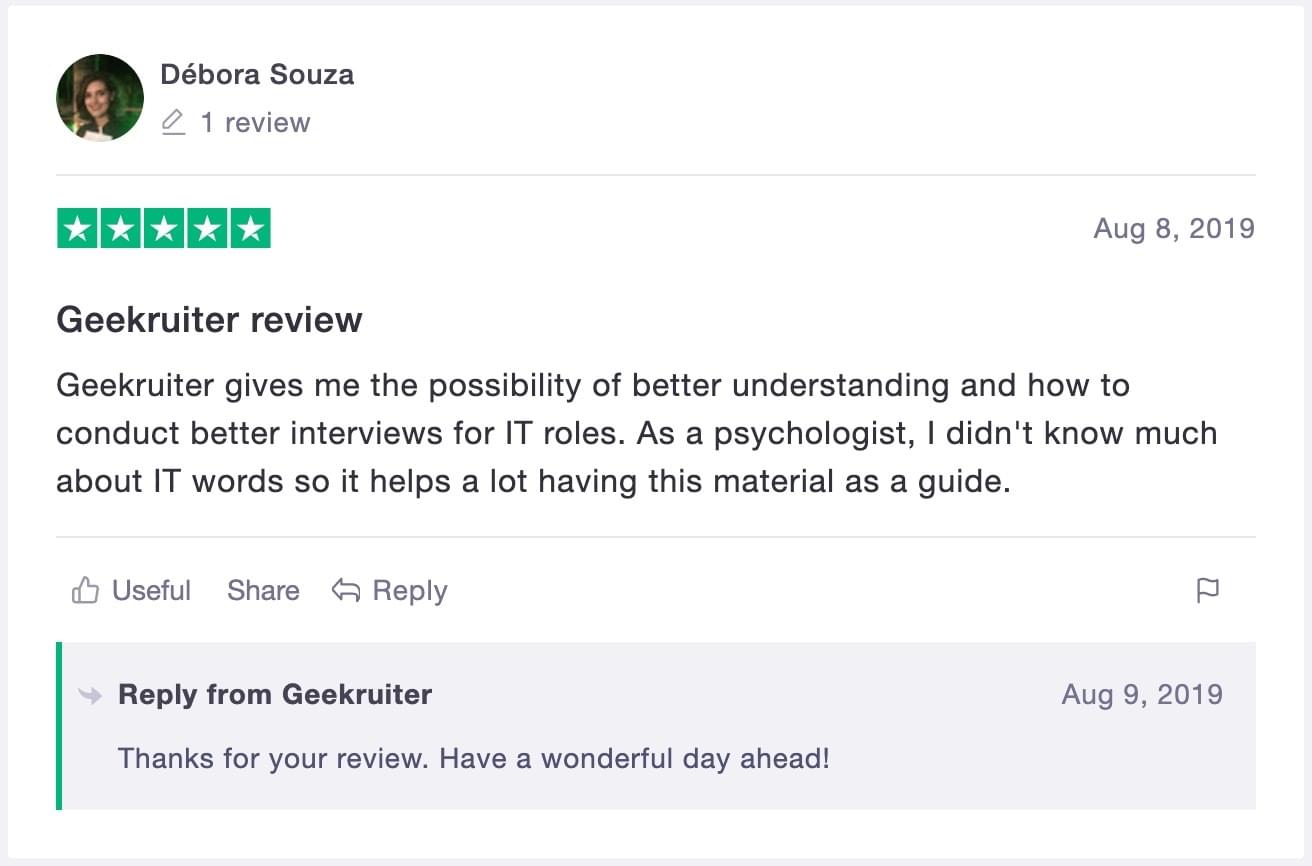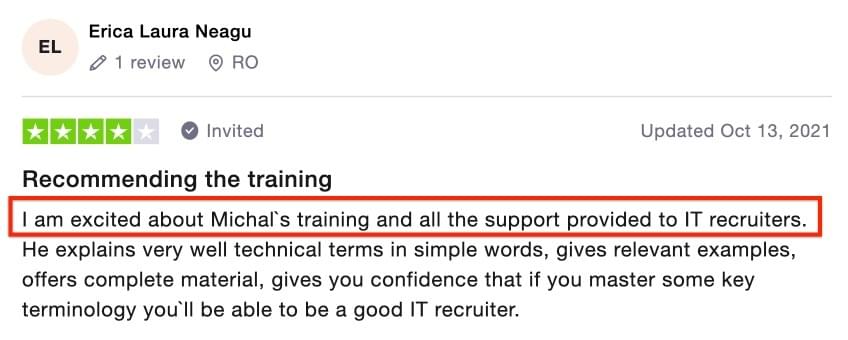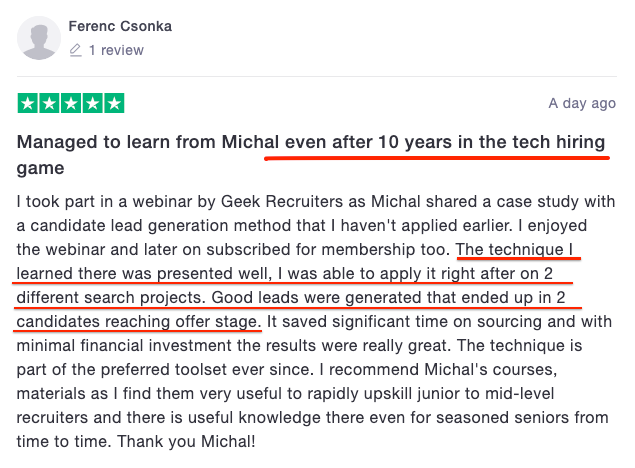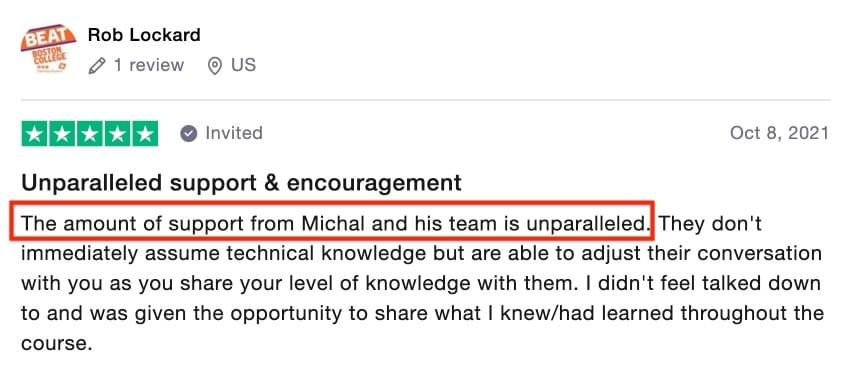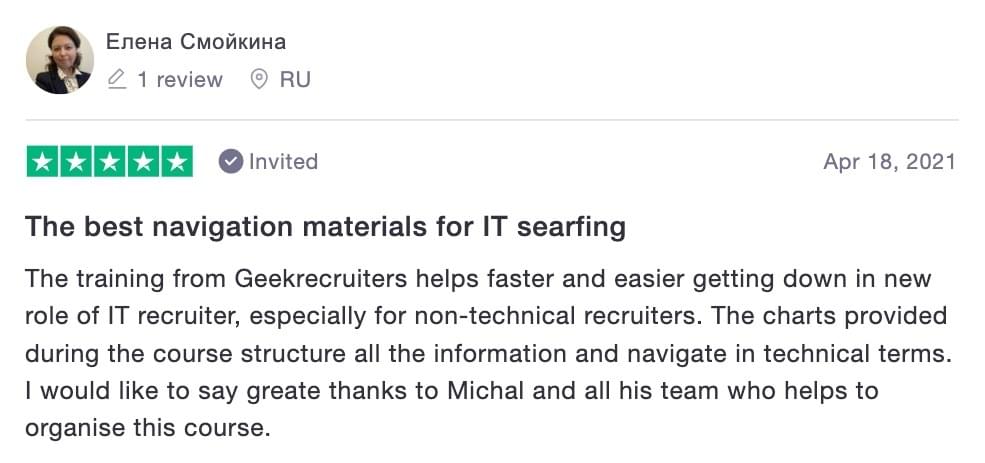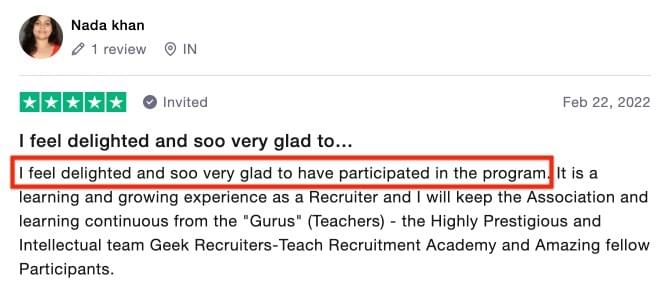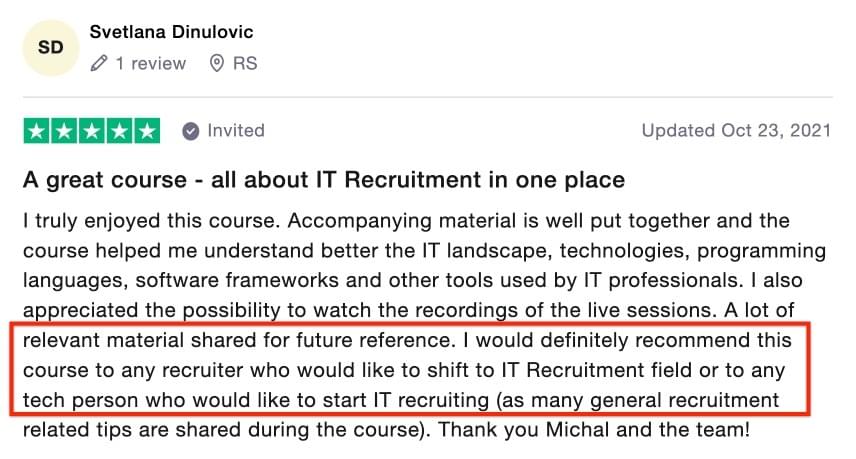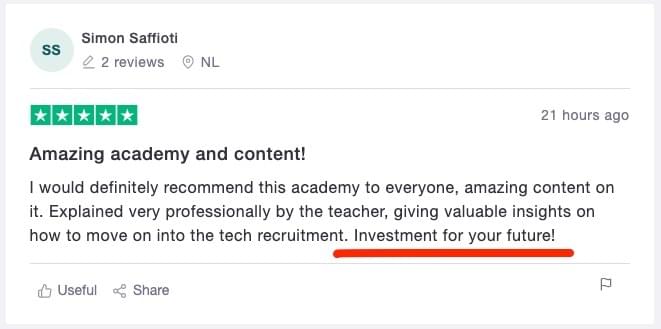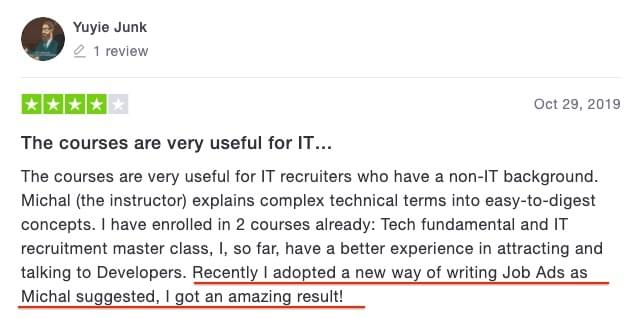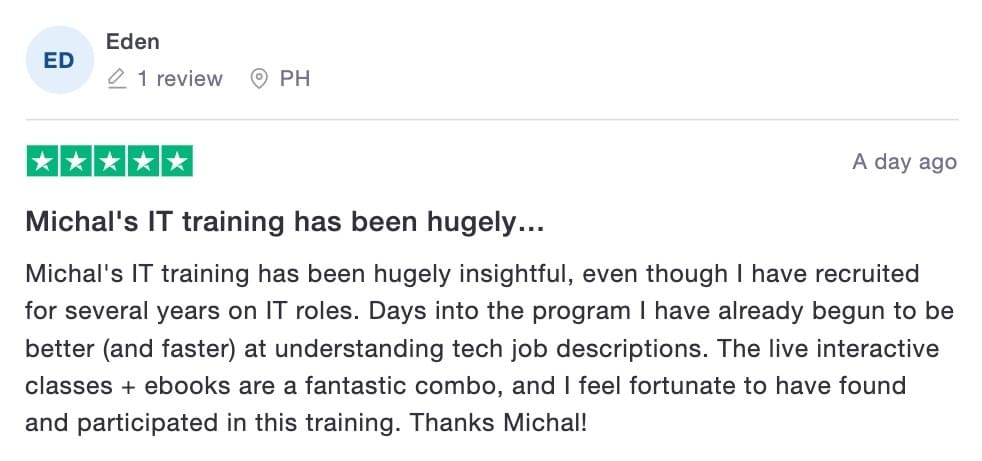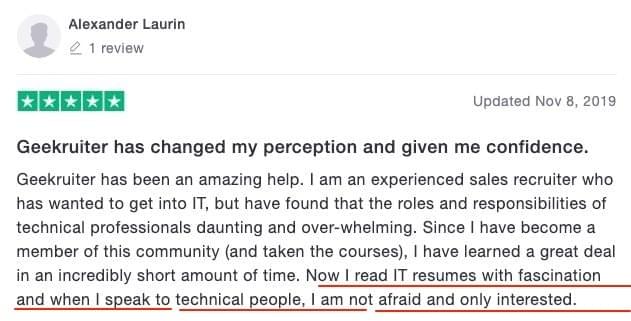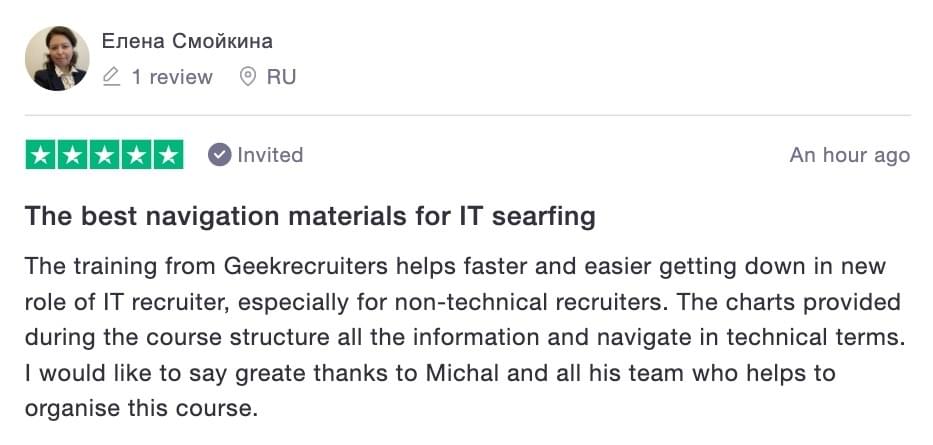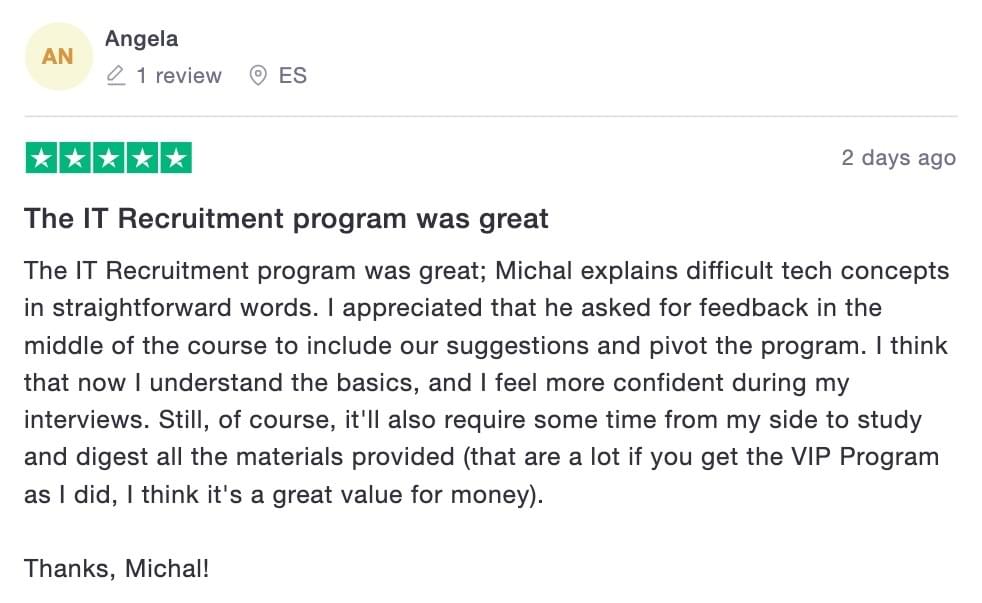 Join the Booster Today
Get the help you need to start recruiting IT candidates with confidence. Join the upcoming Live sessions (on Zoom) and our community on Discord to exchange ideas and best practices.