Start Your New Career
How To Get The Tech Recruiter Job
with Michal Juhas, the international tech recruitment expert and co-founder of a specialized IT recruiting agency.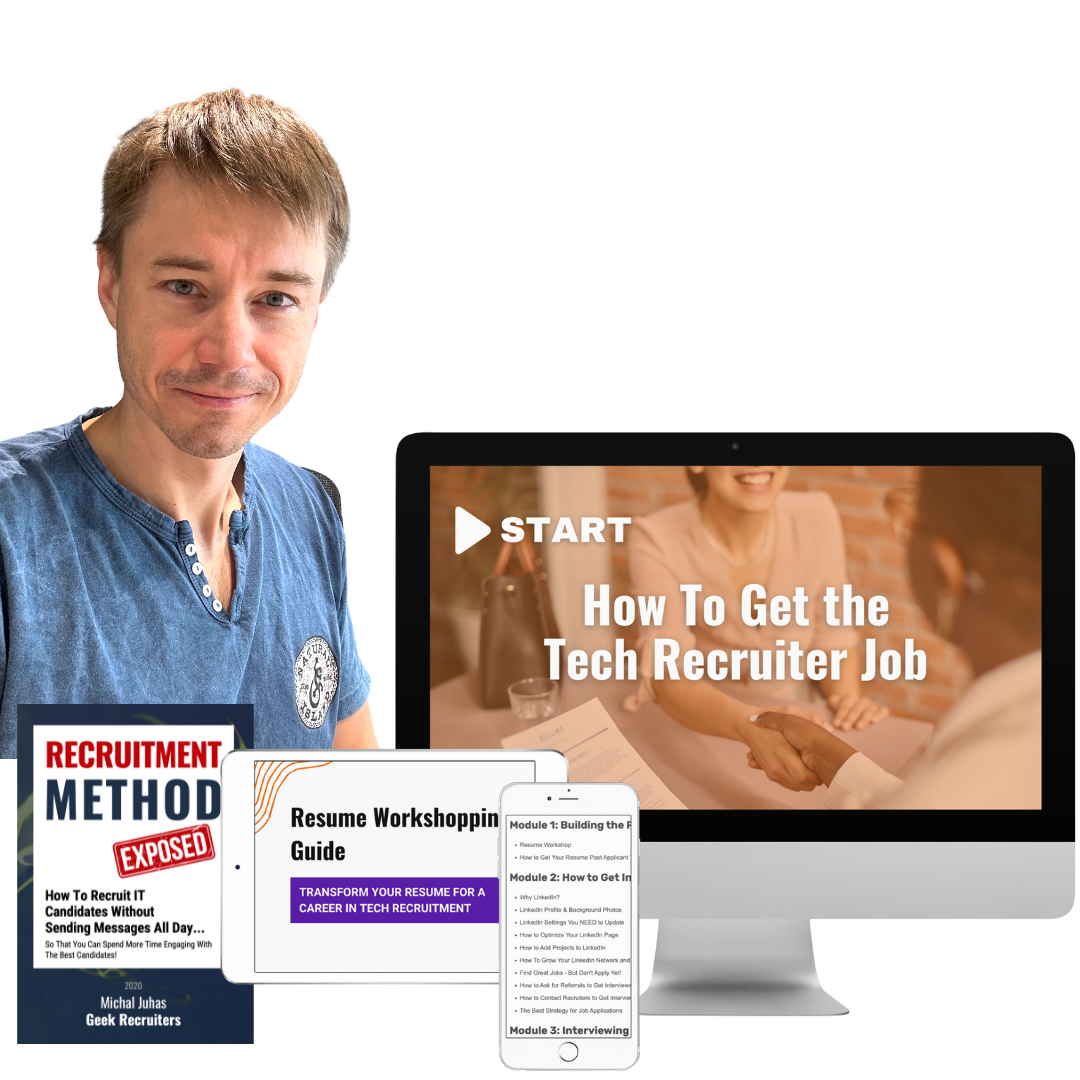 The Faster And Easier Way To Get A Tech Recruiter Job
Watch a video to learn more about how we helped people transition to Tech:
The course is on sale now for only €79
Start Here
Getting Started (& Our Job Application Tracker!)
Module 1: Building the Perfect Resume
Resume Workshop
How to Get Your Resume Past Applicant Tracking Systems ("ATS")
Module 2: How to Get Interviews
Why LinkedIn?
LinkedIn Profile & Background Photos
LinkedIn Settings You NEED to Update
How to Optimize Your LinkedIn Page
How to Add Projects to LinkedIn
How To Grow Your LinkedIn Network and Why It's Important
Find Great Jobs - But Don't Apply Yet!
How to Ask for Referrals to Get Interviews
How to Contact Recruiters to Get Interviews
The Best Strategy for Job Applications
Module 3: Get Feedback
Upload Your CV & LinkedIn Profile To Get Constructive Feedback
Module 4: Interviewing
Interviewing: What to Expect & How to Prepare
The Recruiter Interview (aka "Phone Screen" Interview)
How to Ask for the Salary Range (and Actually Get an Answer)
Behavioral Interview Prep
The Sourcing Test
The Hiring Manager / Coworkers Interview
Interview Practice
Why Add Your Interviewers on LinkedIn
How to Negotiate Your Job Offer for a Higher Salary
Module 5: Starting Your New Tech Job
What To Do on Day 1 of Your New Job
The course is on sale now for only €79
Step-by-Step Instructions

Detailed step-by-step instructions to get recruiters to reach out to YOU about jobs

Get Referrals

Exactly what to say to get referrals for interviews
Negotiations

Exactly what to say to negotiate the best possible salary

Guide

My complete guide to nailing interviews
Stop "Cold Applying" And Start Getting Interviews
When you "cold apply" to a job, your resume ends up in a virtual pile of resumes, and usually never even gets seen by a person.

When recruiters reach out to you on LinkedIn, you go straight to the interview process.

Learn how to make your LinkedIn work for you so you can get interviews faster and more easily!
The course is on sale now for only €79
Is this course right for me?

Anyone who is ready to find a job as a Tech Recruiter will benefit from this course. Whether you learned recruitment on your own, through my program, or somewhere else (using Google or ChatGPT), this course gives you what you need to land a tech recruiter job.
How long do I have access to the course?

You'll have lifetime access! After enrolling, you'll have unlimited access to the course for as long as you like. That means you can use it again if you start another job search in the future.
When does the course start and finish?

This is a completely self-paced course, so you decide when you start and when you finish. Most people finish the course material within 1-2 weeks, and you can apply the strategies to your job search immediately.
Do I have to have any certifications or degrees?

Nope! You just need to know the Tech Recruitment essentials like Boolean Search and LinkedIn Recruiter (and it doesn't matter where you learned them).

If you don't already know technical talent sourcing, you should do that first. Check out my Free Course or my Complete Tech Recruiter Certificate Program before enrolling in this course.
Do you offer refunds?

Due to the success of so many students landing jobs after our courses, NO refunds will be issued under any circumstances. The information in this course WORKS if you do!
Do you offer one on one help?

Because I'm only one person, I can't help everyone individually — that's why I created this course! It includes everything I'd tell you in coaching sessions, plus screen shares, walkthroughs, and downloadable resources like my resume workshopping guide and job application tracker.
The course is on sale now for only €79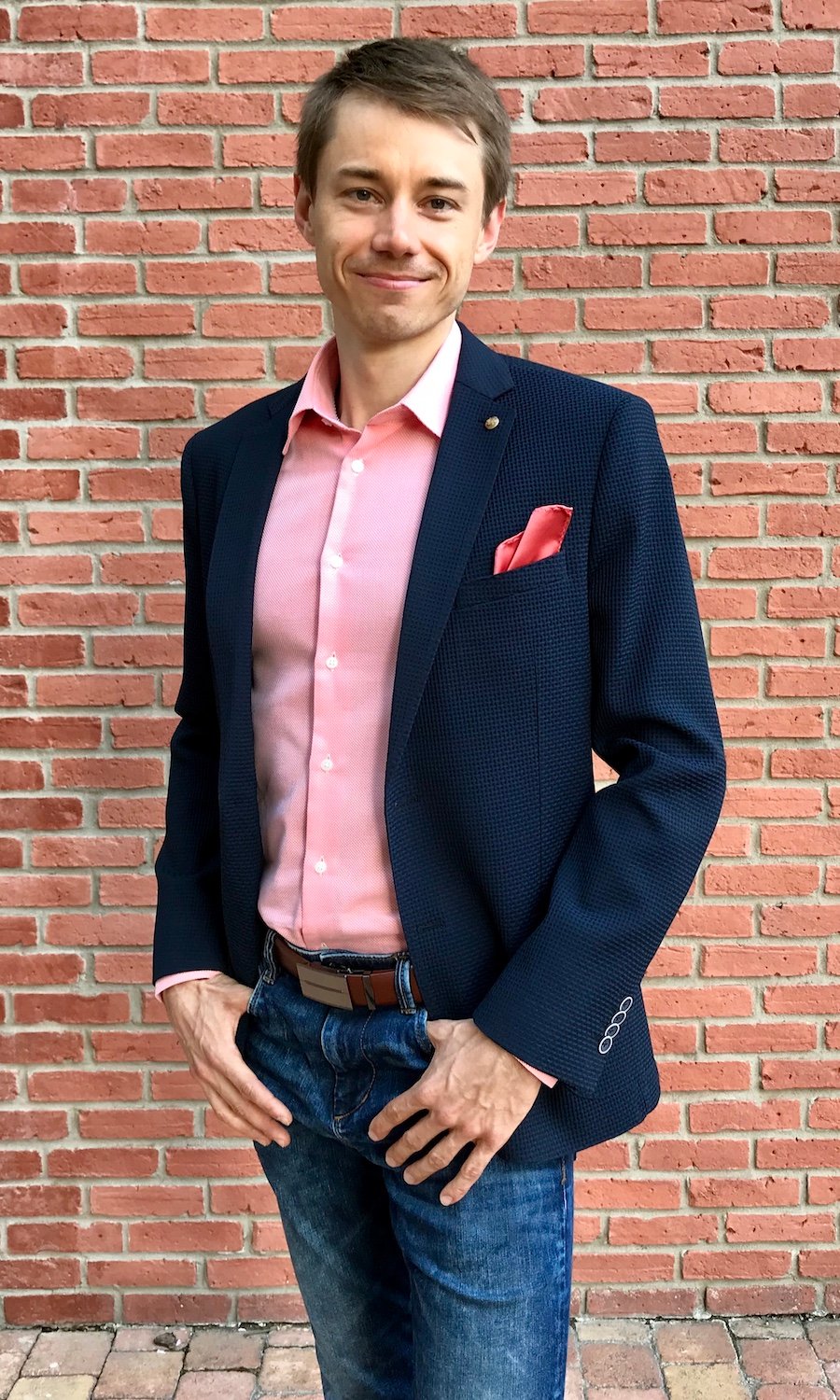 As one of YouTube's leading tech recruitment influencers, my entire YouTube is full of free information detailing how to get started in Tech Recruitment.
I've also created a free tech recruitment course for anyone who needs minimal guidance to get started on their own.

Why? Because when I was the CTO and hired software engineers, I realized very few headhunters and recruiters actually know anything about IT and IT roles. They couldn't help me hire the right IT candidates and when I moved from Thailand back to Europe, I decided to change it and started teaching HR specialists and recruiters the IT essentials.
Over the years, I trained over 30,000 IT and HR specialists online and on-site. I also run a staffing agency as a Lead Tech Recruiter where I use the same principles, methods, and materials to onboard and teach new colleagues.
Now I know exactly what it takes, I'm sharing this with anyone else who wants to do what I do!
Our Tech Recruitment Certification Program was designed for people who want detailed, step-by-step guidance to learn everything you need to land a great Tech Recruitment job. My screenshares, webinar replays, walkthroughs, and hands-on practical exercises ensure you're ready for a new career in Tech Recruitment.
I believe we all deserve a career that pays us enough not just to survive but to thrive. All of my resources (free or paid) were designed to help you break into tech with Tech Recruitment so you can make the salary you deserve, achieve true work/life balance, and focus on what really matters in life.
Let's do this!
– Michal
The course is on sale now for only €79