Start Earning High Commissions!
Tech Recruiter Bounty Hunter Program
with Michal Juhas, the international tech recruitment expert, author, and YouTube content creator will help you work independently for international clients!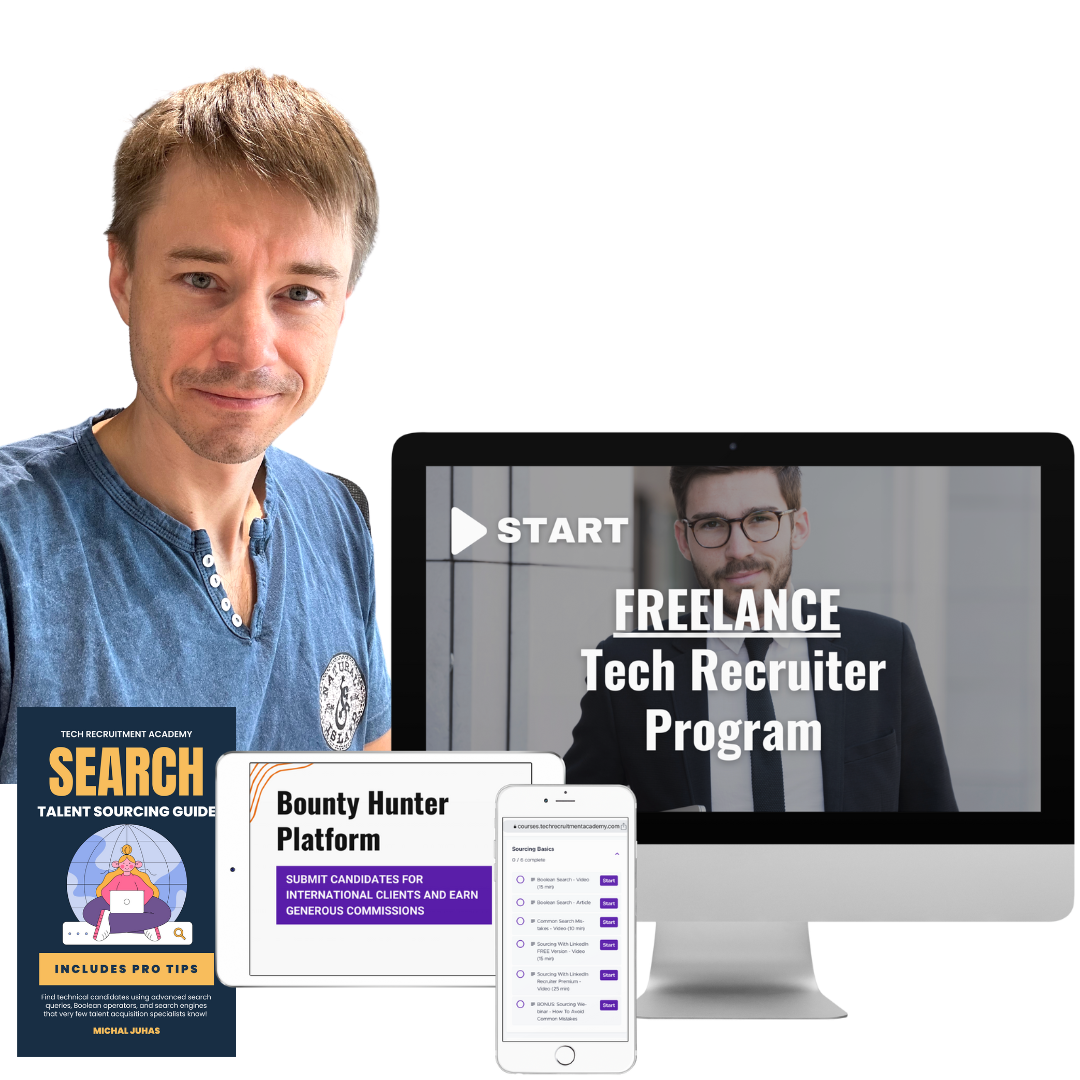 Are You Ready To Earn Your Next (Or First) Commission For A Hired IT Candidate?
Watch a video where Michal Juhas introduces the Freelance Tech Recruiter Program:
Become An Independent Freelance Recruiter
Are you tired of working for an employer who doesn't value your experience?
Would you like to start working as an independent recruiter and focus on highly-demanded IT roles?
We can help you become a Remote Freelance Tech Recruiter!
Get access to our best training resources and a candidate submission platform:
Advanced IT Talent Sourcing

Learn how to find candidates for advanced roles such as a DevSecOps consultant, CyberSecurity specialist, AI/ML Engineer, SAP Developer, and recruit these candidates with confidence!

Candidate Submission Portal

Get access to a portal where you can submit candidates for international clients and get commissions for hired candidates.

Client Acquisition

Learn how to acquire new clients, how to position yourself as the expert in IT recruitment, and build marketing collaterals that will help you attract more clients.

Sourcing Tools

Get access to email finder and a Boolean search query generator so you can find candidates easier and faster.
This Is How You Become An Independent Tech Recruiter
1. Go Freelance
Learn about the different options for working remotely as an independent Tech Recruiter. Listen to stories from other recruiters who made the leap.
How To Start Working As An Independent Recruiter
2. Join The Submission Platform
Create an account on our candidate submission platform so you can submit candidates for international clients.
NOTE: This comes only with packages #2 and #3.
How To Create Your New Account At "Recruit Instantly"
What Commissions Can You Expect
How To Submit Candidates
Other Similar Platforms
3. Build Your Talent Pool
Create your own talent pool of qualified IT professionals so you can start submitting them to international clients in no time. This will help you earn more commissions—and faster!
Your Talent Pool Building Challenge
Why Is The Talent Pool So Important
The Most Demanded IT Roles
Choose Roles You Will Focus On
Remember Four Key Principles
Connect With Your 1st Connections
Connect With Your 2nd Connections
Re-Contact A Few Days Later
Case Study: How To Reach Out To Prospects - (Example: Project Managers)
Case Study: Sending Emails With ChatGPT
Sourcing Webinar Replay - Utilizing Your Own Talent Pool (60 min)
4. Build Your Personal Brand Online
Position yourself as the go-to person in IT recruitment. This module will help you onboard new clients and increase the response rate when messaging candidates.
Mind Map - Personal Branding
Workshop Group Session Replay
Example 1 - Daria
5. Learn Advanced IT Talent Sourcing Strategies And Techniques
Everyone can open LinkedIn and type "Frontend Developer" in the search bar. But YOU will learn advanced strategies that only the TOP 5% of sourcers and recruiters know.
How To Use The Boolean Generator
Access 80+ Sourcing Webinars So You Can Cherry-pick
Sourcing Keywords & Search Queries
6. Get New Clients
Find and onboard new clients thanks to these client acquisition strategies. You'll earn higher commissions and will probably enjoy the job more. In this module, you'll learn how to organize inbound and outbound campaigns to get new clients on board.
Client Acquisition Options (Mind Map)
Workshop Group Session Replay (30 min)
Business Development Example 1 - General Cold Message To A Partner
Business Development Example 2 - General Cold Message To A Partner
Business Development Example 3 - General Cold Message To A Partner
How To Write A Good Message To A Prospective Client
How To Make Bold Text In a Message On LinkedIn
LinkedIn Helper
7. Get More Productive & Happy
Listen to interviews with recruiters and agency owners who have been recruiting IT specialists for several years and closed dozens of vacancies each to learn their best practices, tips & tricks.
How To Get More Candidates - Mind Map with options outlined
Test Your Typing Speed
How To Improve Your Typing Speed
New Keyboard Shortcuts To Master
Radovan Vasic: "How to engage with IT candidates"
Iva Jovanovic: "How To Message 300 Prospects Per Day"
Marek Wrobel Interview
Kasper Dam: "How To Assess Technical Candidates Quickly And Objectively"
Yuma Heymans: "How To Survive Without LinkedIn"
Alexander Dallas: "How To Transition To Tech"
Interview with Malay Kapoor: "How To Improve IT Candidates' Experience"
Adriaan Kolff "Productivity"
Jonathon Hensley "How To Run an Agency"
Mariela Matusheva: "IT Recruitment Can Be Fun!"
Raphael Danilo Interview
Gavin Johnston: "How To Decide Whether To Join An Agency Or A Corporate Team?"
Powerful Contents
This curriculum includes hours of videos, walkthroughs, and screen shares to take you from a point when you don't know how to work as an independent recruiter to being a confident freelance consultant who already has the first candidate hired!
You will work on real-world projects from real clients and can earn real money for hired candidates.
Get Commissions For Hired Candidates—While You Are Learning!
This program is SPECIAL because you can earn commissions for hired candidates while you are still learning and going through the training program. These are commissions (bounties) earned by remote tech recruiters who submit qualified candidates for international clients and agencies on our candidate submission platform: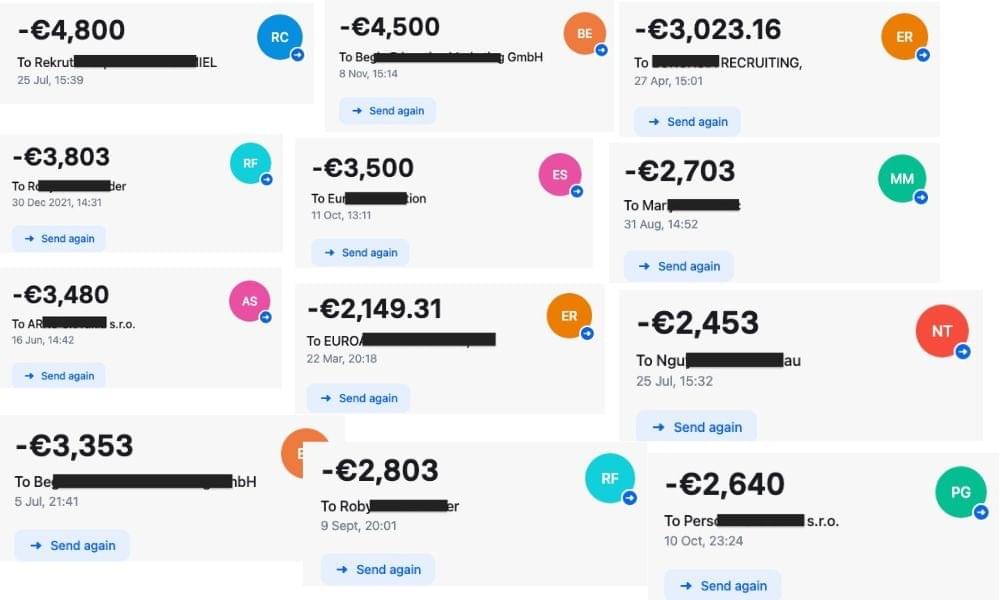 Join our LIVE Sourcing Webinars
Join Michal Juhas, the international Tech Recruitment Expert, to see how he finds candidates for some of the most difficult IT job requirements such as a DevSecOps Specialist, CISCO Network Engineer, Java Architect, IT Product Manager, and others.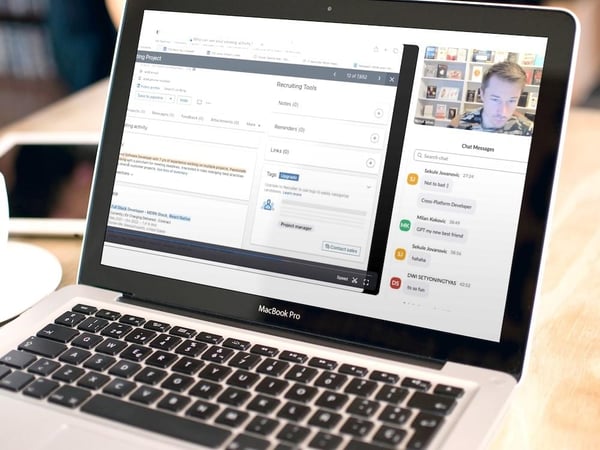 Get All Our Mind Maps
Get the latest version of the best-selling eBook that Tech Recruiters around the globe use to learn about the complex IT world... so that you understand technical job requirements and can match the right IT candidates.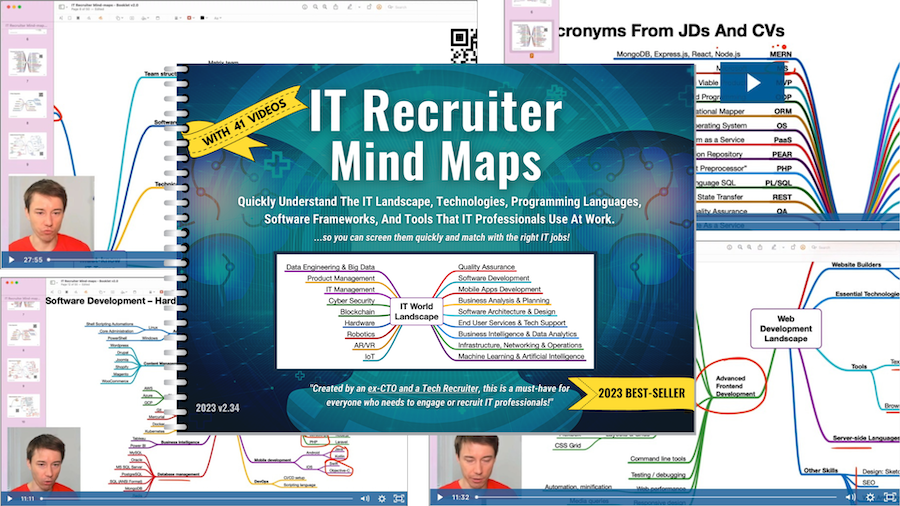 Get A Dedicated VIP Channel To Discuss Your Candidates
With our VIP support, you'll not be left without any feedback about your candidates. You'll get access to a dedicated Slack or Discord channel where recruiters who are in touch with clients will update you about the status of the candidates you submitted.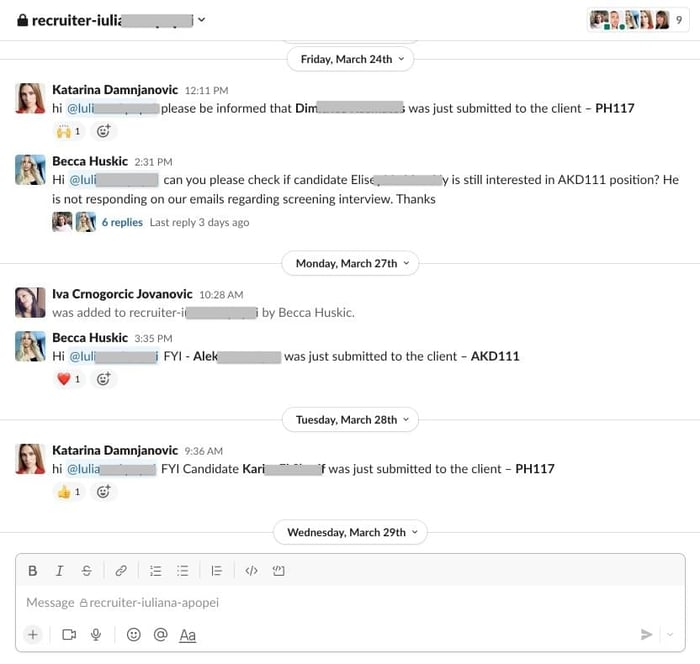 Get A Certificate
Receive a certificate at the end of the course and post it on your LinkedIn profile for everyone to know you are a certified Freelance Tech recruiter.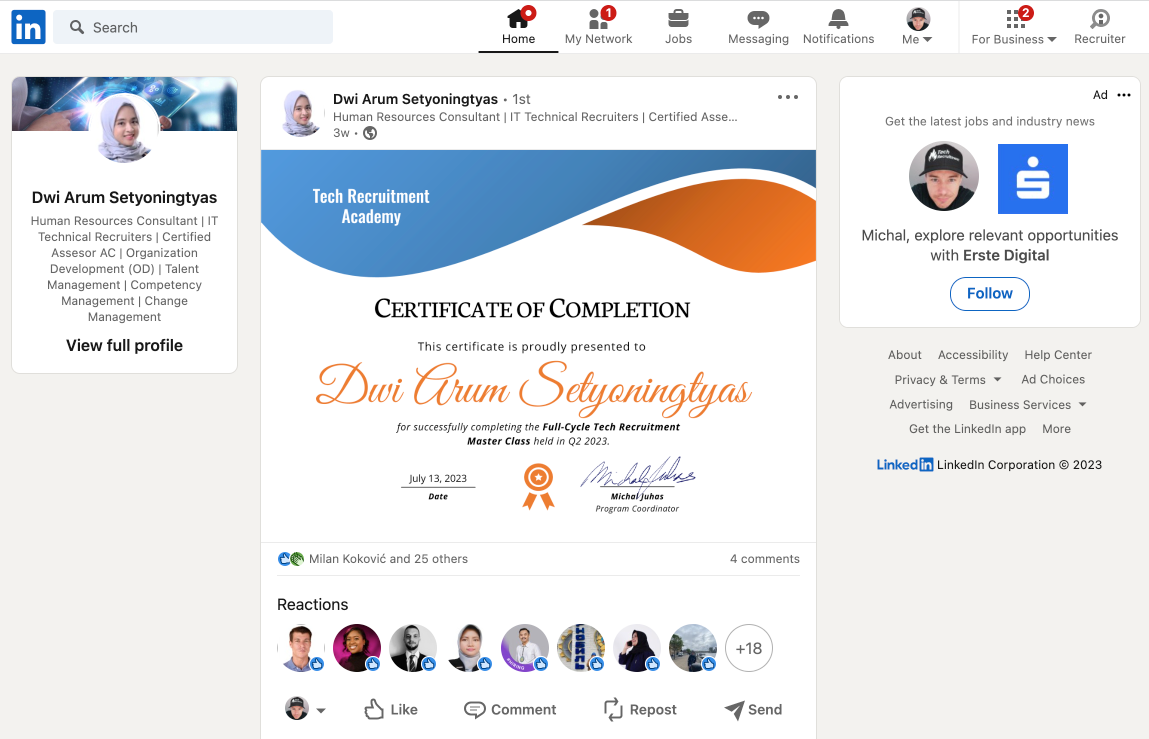 Feature your new certificate on your LinkedIn profile in the "Licenses & certifications" section: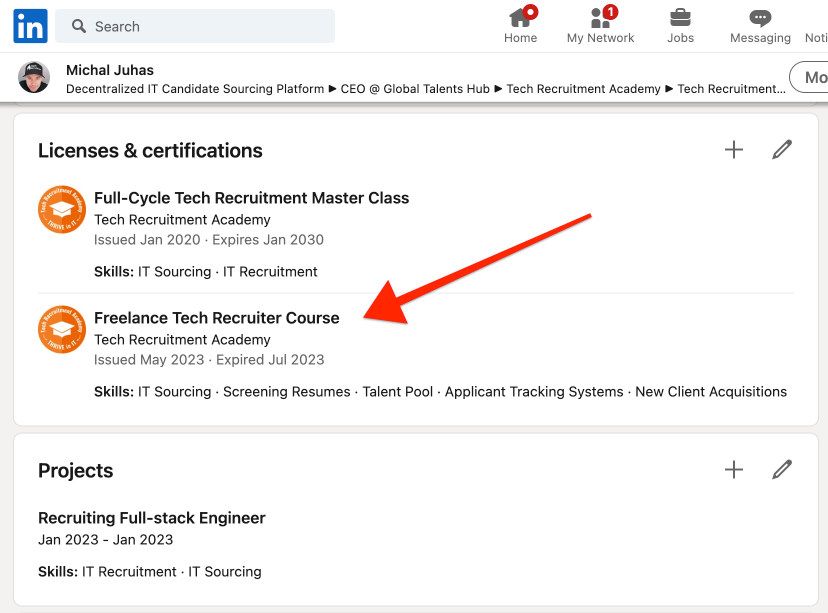 Are You Ready?
If you're ready for a change, this course will change your life!
Walkthroughs, screen shares, and video lectures are designed for beginners with no previous experience in IT.

Create your own candidate talent pools and sourcing projects with 9 real guided projects so hiring managers will see you're ready to get hired.
Video walkthroughs and hands-on practice with LinkedIn Recruiter, GitHub, Google X-Ray search, and more, so you can practice as much as you want until you feel ready to apply to Tech Recruiter jobs.
This Program Is A Good Fit For You If:
You've been working in HR or Recruitment for a few years and can find, screen, and submit candidates independently

You already know what's the difference between a Frontend Angular Developer and Backend Java Developer

​You'd like to start a new side hustle or even your own recruiting agency later down the line

​You'd like to work fully remote from anywhere in the world

​You'd like to earn a commission of $2-$5k per hired candidate

​You'd like to focus on IT / Tech / Data in the long run (because it's here to stay and will pay off in the future)
Watch A Case Study With Halyna Who Got A Candidate Hired In
Only Two Months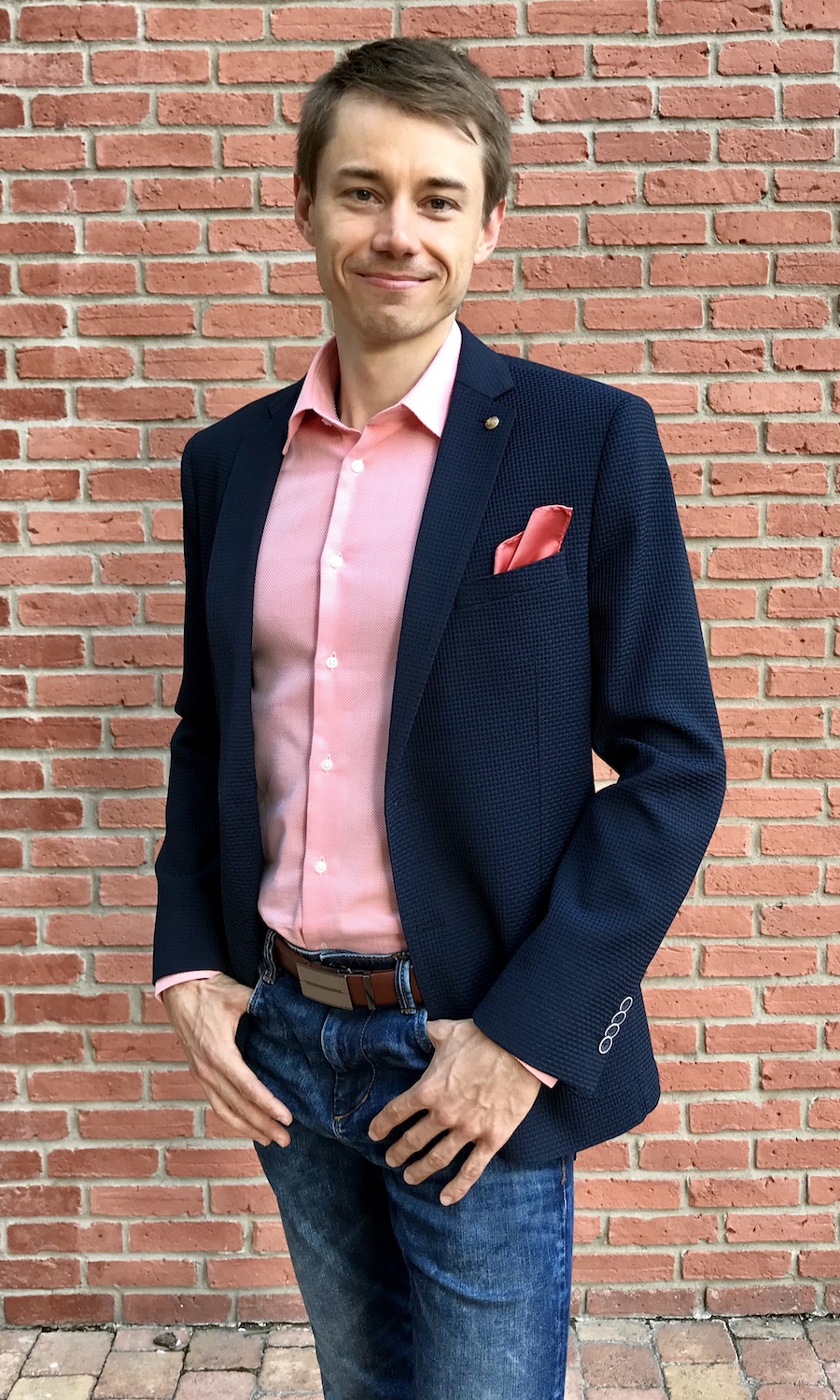 Hey, I'm Michal Juhas!
As one of YouTube's leading tech recruitment influencers, my entire YouTube is full of free information detailing how to get started in Tech Recruitment.
I've also created a free tech recruitment course for anyone who needs minimal guidance to get started on their own.

Why? Because when I was the CTO and hired software engineers, I realized very few headhunters and recruiters actually know anything about IT and IT roles. They couldn't help me hire the right IT candidates and when I moved from Thailand back to Europe, I decided to change it and started teaching HR specialists and recruiters the IT essentials.
Over the years, I trained over 30,000 IT and HR specialists online and on-site. I also run a staffing agency as a Lead Tech Recruiter where I use the same principles, methods, and materials to onboard and teach new colleagues.
Now I know exactly what it takes, I'm sharing this with anyone else who wants to do what I do!
Our Tech Recruitment Certification Program was designed for people who want detailed, step-by-step guidance to learn everything you need to land a great Tech Recruitment job. My screen shares, webinar replays, walkthroughs, and hands-on practical exercises ensure you're ready for a new career in Tech Recruitment.
I believe we all deserve a career that pays us enough not just to survive but to thrive. All of my resources (free or paid) were designed to help you break into tech with Tech Recruitment so you can make the salary you deserve, achieve true work/life balance, and focus on what really matters in life. Let's do this!